The .243 Winchester is one of my favorite cartridges. While it's not a thousand-yard round by any means, it's great for bagging medium game at short to medium ranges. You can reach out and touch a buck at 200 yards, and the recoil won't break your shoulder.
I'm about to help you find the best scope for .243 Winchester.
To find the best scope for .243, I personally tested more than a dozen popular scopes. Then I took the top four, and wrote down my thoughts.
Let's take a closer look!
Why Should You Trust Me?
Don't. Why would you trust anyone on the internet?
When I searched for the best .243 scope, I started by reading user reviews, browsing gun forums, and perusing YouTube for the most popular scopes. Then I narrowed the list to scopes that are a good fit for .243; they needed to be good at short to medium ranges, and they needed to be lightweight.
But I didn't stop there. I personally tested each scope on the range. I tried them standing and I tried them at a bench rest. I tried them at long and short ranges, and only stuck with the best.
Will you agree with all of my choices? Probably not – and that's just fine. But chances are, at least one of these options will be right up your alley.
The 4 Best Scope for .243 Win
1. Vortex Optics Diamondback 4-12×40 BDC – The Best .243 Scope
The first choice on my list isn't fancy, but it doesn't need to be. The Vortex Optics Diamondback 4-12×40 BDC is one of the manufacturer's entry-level scopes. You're getting a durable, reliable brand-name product, but you're not breaking the bank on any extra features.
The housing is 12 inches long, with a 40mm objective lens at the end. It has a 30mm tube, which makes it compatible with most modern scope mounts. In terms of ergonomics, this scope was quite user-friendly. I didn't even have to take my mount off the rail to install it, and the overall design facilitated quick and easy setup.
It also tips the scales at just 14.56 ounces. This lightweight design was a relief during long hunting trips, as I barely even noticed the weight.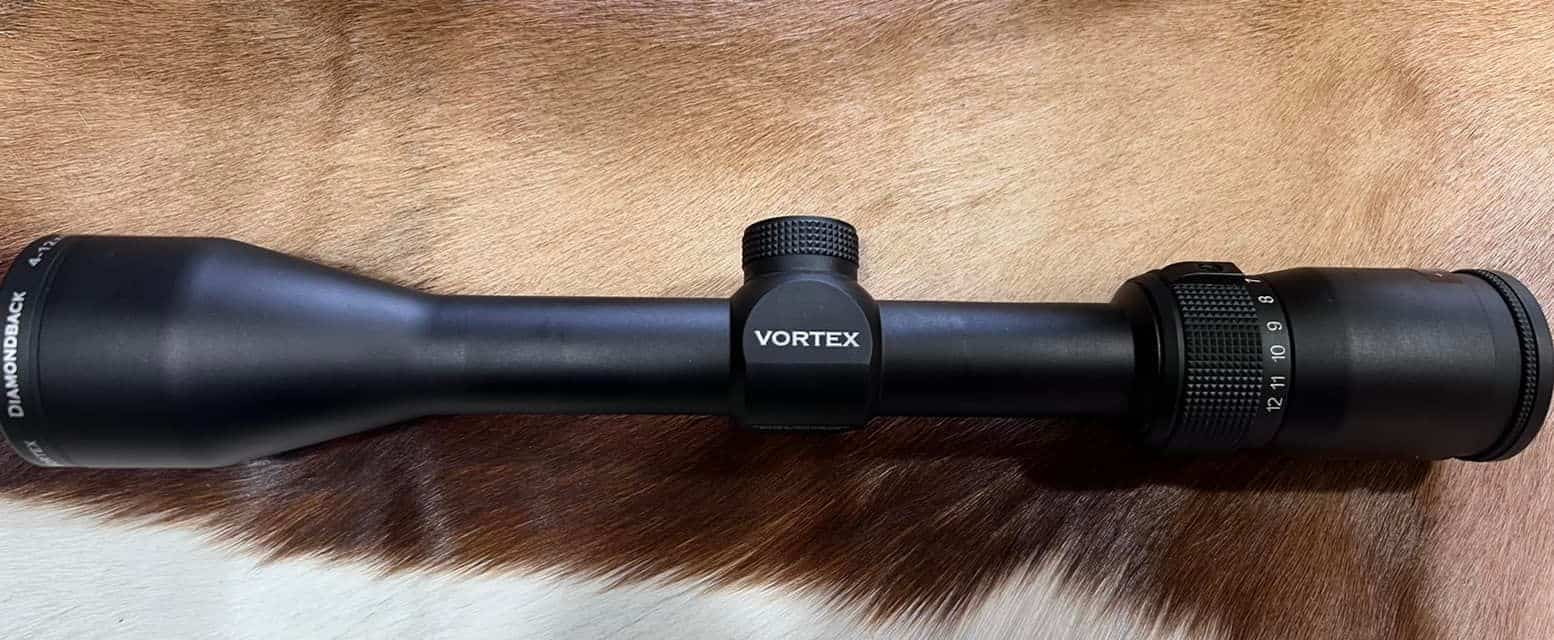 Glass Clarity & Reticle
The clarity of the glass is excellent, as you probably expect from a Vortex scope. When compared to other scopes in its price range, such as the Sig Sauer Buckmaster, the Diamondback's glass clarity stands out, especially in terms of color fidelity and contrast. However, they've needed to make some compromises to keep the price point low. The 40mm objective lens feels dim when you're shooting in low light conditions, and a 50mm lens would have been better. I also saw some glare when the sun was near my line of sight.
The reticle is a modified crosshair, with black lines that transition to dots near the center. This design proved extremely helpful in rapid target acquisition and precise shooting. These dots make it very easy to adjust for range and windage.
It's worth noting that this scope has a second focal plan. This choice, while simplifying the learning curve for beginners, may limit more advanced users accustomed to a first focal plane's variable reticle size. I like this feature for beginners, because it eliminates one more distraction. First focal plane scopes are great for hunters and experienced target shooters. But when you're first starting out, you ought to be focusing on the basics.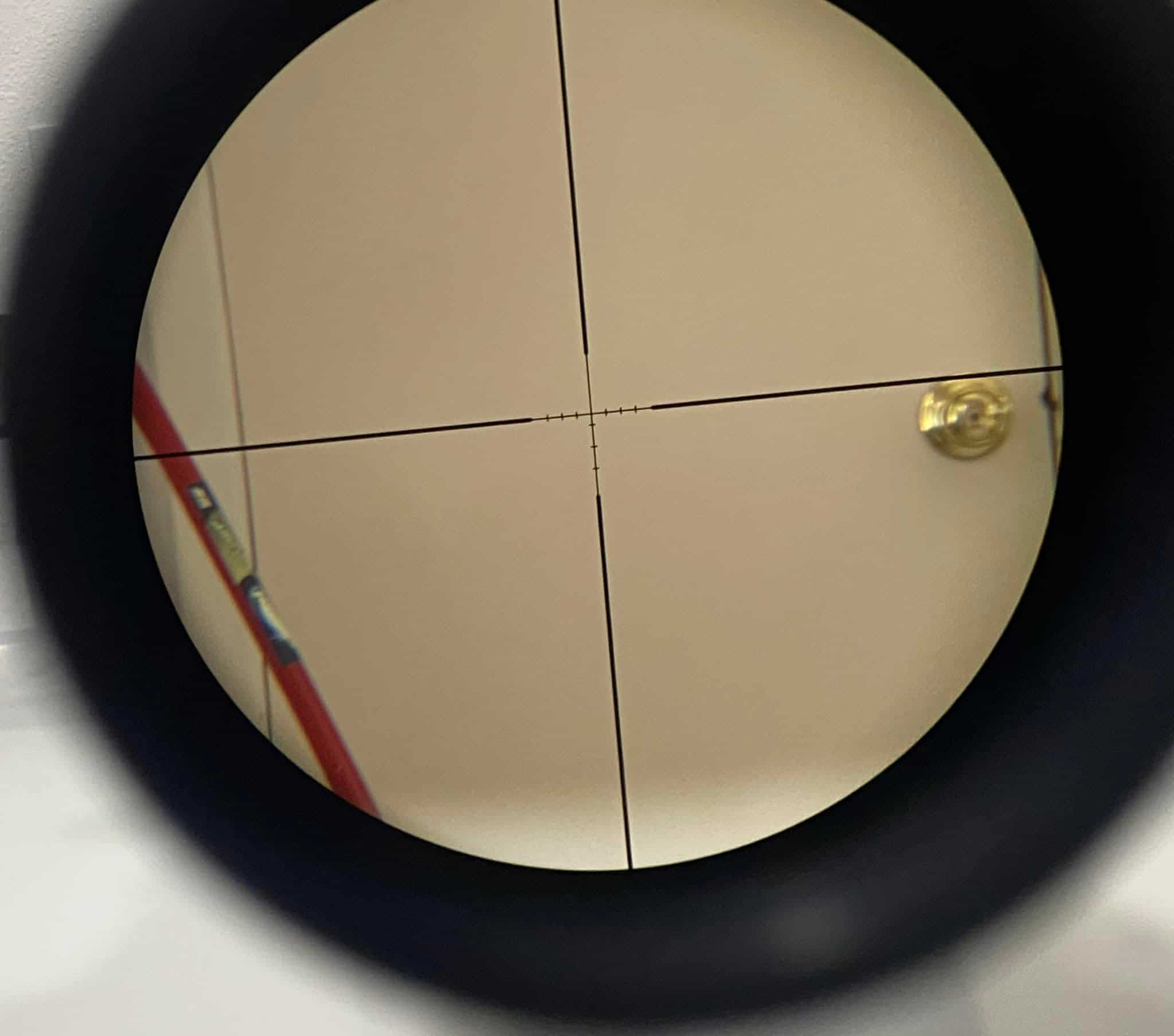 Parallax & Magnification
The Diamondback has a fat, knurled ring in front of the eyepiece, with a fat flange protruding from it. The user interface for adjusting magnification was intuitive, offering a smooth transition between different zoom levels. I was able to adjust it easily with my thumb and forefinger – an essential feature when you're standing and can't afford to use both hands.
You can zoom between 4x and 12x, which is all you really need. Even if you're shooting 200 or 250 yards, you'll be able to see plenty of details. However, the fixed parallax setting at 100 yards did present challenges at closer ranges, requiring extra attention to maintain accuracy.
Elevation & Windage Knobs
The elevation knob is located on top of the tube, with the windage knob on the right side. They both have removable covers, which protects them during transit. The tactile feedback from these knobs was precise.
I like this feature, because I don't have to worry about my sights getting knocked out of whack while I'm on the way to the range. That said, it also means you have to mess with the caps any time you make an adjustment.
The knobs are sensitive to ¼-MOA, and make a satisfying click when you turn them.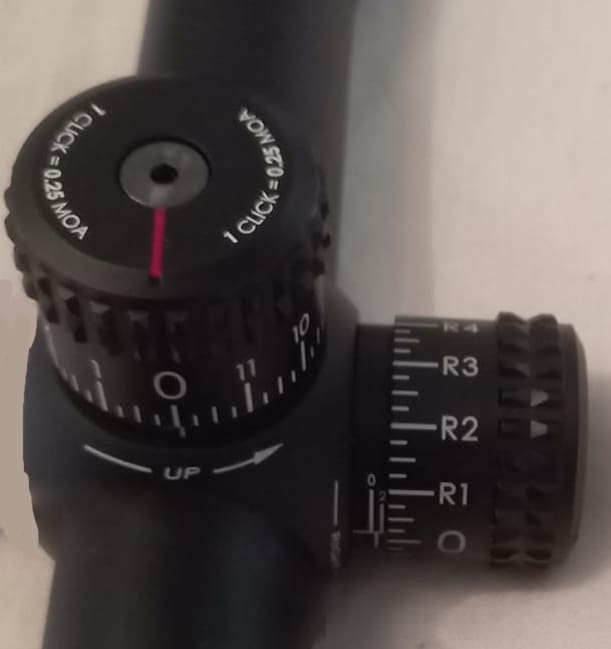 Eye Relief & Eye Box
The eye relief on this Vortex scope is 3.1 inches. This shorter eye relief was noticeable, especially when shooting from unconventional positions, but it was manageable with proper technique. This eye relief would be problematic if you were using it with a larger gun. I wouldn't want to mount it on my .308 Win. Mag! But on a .243, you're typically dealing with a smaller, lighter gun, so a shorter eye relief is less of a concern.
Durability
The Diamondback lives up to Vortex' reputation for durable design. Its robust construction proved resilient in various weather conditions, maintaining functionality even in rainy and humid environments. The tube is engineered from anodized aluminum, with a one piece design that can take some abuse.
It's also argon-purged, with O-ring seals to prevent air transfer. Despite this, I experienced slight fogging during rapid temperature changes, which was a minor inconvenience.
Is the Vortex Optics Diamondback 4-12×40 worth it?
I would say so! Its combination of durability, ease of use, and optical quality makes it a solid choice for beginners and experienced users alike. If you're shopping for a beginner, it's a great starter scope that's still tough enough to last them for years.
But more experienced hunters and target shooters may also want to take a look. However, the limited low-light performance and fixed parallax may deter seasoned users looking for more advanced features. Even if you have a $2,000 scope for competitive shooting, do you want to risk damaging it in the field?
I also like to have an inexpensive, but reliable scope to use as a backup. This scope's resilience and ease of installation make it an excellent contingency option. You never know when your gear is going to fail, and that's bad news when you're all set for a day of hunting. If your main scope gets dinged up, this one is easy to swap in and sight.
The Diamondback series also features in my best scopes for .270 guide.
Pros:
Durable design

Easy adjustment

Straightforward reticle

Great value
Cons:
Short eye relief

Optics aren't as bright as they could be
2. Burris Fullfield II 4.5-14×42 – Best Budget .243 Scope
The Burris Fullfield II 4.5-14×42 is another entry-level scope. It's a tad heavier than the Vortex, at 18 ounces. But it's also a bit larger – 12 inches in length with a 42mm objective lens. This slight increase in size and weight makes it feel more substantial in hand, which some shooters might prefer for added stability.
I did have to change out my scope mount for this one, but only because I'd just been shooting with a 30mm scope. The process was straightforward, highlighting the scope's compatibility with various firearms. The barrel has a 1-inch diameter, which is another common size. This standard sizing makes it a versatile choice for those with multiple firearms. If you own more than a couple of scopes, you probably already have a compatible mount.

Glass Clarity & Reticle
One thing I liked about this scope was the glass. For a beginner scope, it's exceptionally clear and bright. The glass provided excellent light transmission, making images appear crisp and vivid.
I'm not saying you can win a competitive shooting match with it. But for its price point, it rivals higher-end models like the Leupold VX-Freedom in terms of image clarity. The 42mm lens does a great job of capturing light, and even works reasonably well in dim light. However, in very low light conditions, its performance is not as strong as scopes with larger objective lenses.
The reticle here is something Burris calls a "ballistic plex." The simplicity of the reticle design is ideal for quick target acquisition, although it lacks the more detailed markings that some advanced shooters prefer for long-range accuracy. It has a fat black crosshair that tapers to a narrower crosshair at the center. There are no windage hashes, but there's a set of droppage hashes underneath the center of the image. This feature is particularly useful for estimating bullet drop at varying distances. It's also a first focal plane scope, so the size of the reticle will change with your zoom level.
Like I said before, this can be distracting for beginners, but it offers a level of precision that experienced shooters will appreciate, especially in varying range conditions. Since the droppage hashes remain proportional to your zoom level, you can adjust for range regardless of how far you're zoomed in.
Parallax & Magnification
The magnification is adjustable from 4.5x to 14x, and adjusts via a knurled ring on the front of the eyepiece. This range of magnification is versatile, suitable for both close and mid-range shooting. I appreciated the wide field of view – 22 feet at minimum zoom and a range of 100 yards. This made tracking moving targets easier, especially in wooded or brush-heavy environments. Even at 14x magnification, you'll have a 7.5-foot picture. However, at higher magnifications, the field of view narrows significantly, which can be a challenge when tracking fast-moving targets. This makes it easy to acquire your target, since you don't feel like you're looking through a tiny pinhole.
There's a separate ring at the front of the scope, which you twist to adjust the parallax. This adjustability is a significant advantage over fixed-parallax scopes, allowing for more precise shooting at varying distances. It's adjustable from 50 yards to infinity. If you know your range to target, you can easily turn the ring and correct the parallax.
Elevation & Windage Knobs
The elevation knob is positioned halfway down the barrel, directly on top of the scope. The placement of this knob is ergonomic, making adjustments while aiming less cumbersome. The windage knob is on the right side in a similar location. Both are protected by removable covers.
The ¼-MOA per-click accuracy is as good as you'll find on any high-end scope. This precision allows for very fine adjustments, crucial for long-range shooting. I did have a minor complaint, though. The knobs are a bit stiff, and when I applied enough force, it was easy to click through more than one step by mistake. Then again, you can always just turn the knob back.
Eye Relief & Eye Box
The eye relief varies from 3.1 to 3.6 inches, depending on your zoom level. This variable eye relief is beneficial, allowing for comfortable shooting positions at different magnifications. When you're zoomed in all the way, it will be pretty tight, and you'll have to get closer. This can be a bit challenging for shooters who wear glasses like me or prefer a more substantial buffer between their eye and the scope. When you're zoomed out a little more, you'll have a longer eye relief and a bigger eye box.
Despite these variations, the scope maintains a consistently clear and bright view, ensuring effective targeting. Regardless, you'll have enough space not to whack yourself in the eye when you pull the trigger. Moreover, the generous eye box makes it easier to maintain a clear view of the target, even if your head position isn't perfectly aligned with the scope.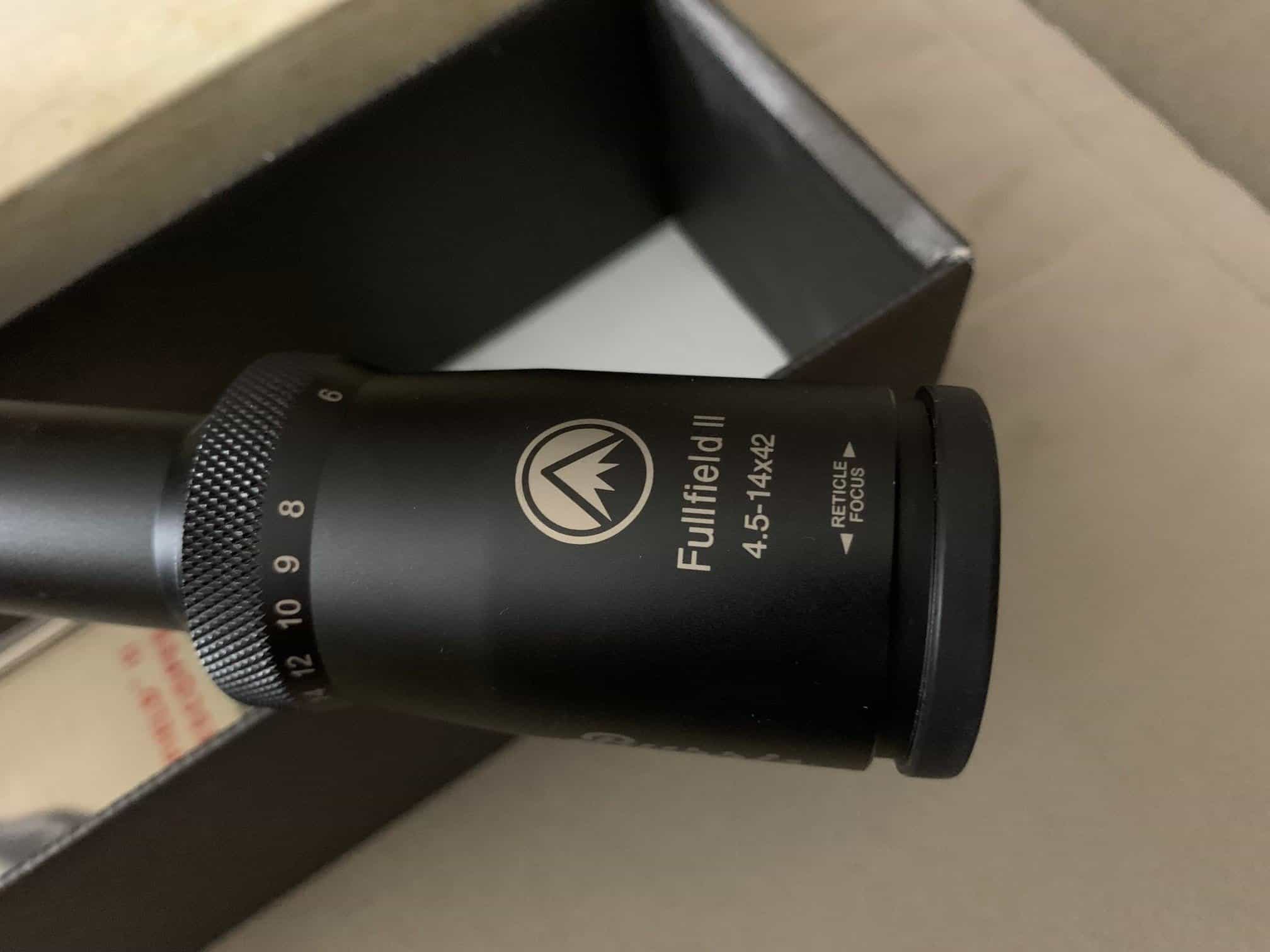 Durability
This scope is as tough as they come. Its rugged construction reassured me during outdoor excursions, as it seemed capable of handling rough conditions. I accidentally bumped my rifle on the bench rest while I was taking it out of the gun case, and jarred it pretty hard. Despite this rough handling, the scope maintained its zero impressively well. When I took my first shot of the day at 100 yards, it was only an inch off target.
Its resilience against environmental factors like moisture and dust was also notable, contributing to its reliability in various shooting conditions. The tube is waterproof, fog-proof, and shock-proof. It's also nitrogen-filled to prevent condensation from building up.
Is the Burris Fullfield II 4.5-14×42 worth it?
For a beginner scope, this is an excellent scope. Its combination of user-friendly features, clear optics, and robust construction makes it a solid investment for both novice and experienced shooters. Its ability to withstand the occasional knocks and bumps adds to its appeal for those who frequent rugged terrains or participate in dynamic shooting activities. Even experienced shooters like me occasionally bump our guns, and a good scope should be able to withstand that.
For another thing, the glass is beautiful for the price. Its performance in various lighting conditions exceeds expectations for a scope in this price range. You'll be able to see plenty of detail and colors. This visual clarity is especially advantageous for hunters who often shoot in diverse environments and light conditions. Whether it's for a deer rifle or a varmint gun, the Fullfield II offers the versatility and dependability needed in the field. If you want to build a deer rifle without breaking the bank, you're looking at a solid choice.
For another Winchester cartridge read my best .30-30 scopes article.
Pros:
Great glass quality for the price

First focal plane design

Easy parallax adjustment

Very durable
Cons:
Stiff adjustment knobs

Short eye relief

Narrow field of view at high magnification
3. Leupold VX-3i 3.5-10×40 – Best Leupold Scope for 243
Enough with beginner scopes. I also wanted to look at some scopes for people who want to invest in the best quality glass. The Leupold VX-3i 3.5-10×40 fits that mold perfectly.
This is a 14-inch scope with a 40mm objective. Despite the medium size, it's a lightweight, and will only add 12.6 ounces to your rifle. When you're lugging your gun through the woods, every ounce counts. Its ergonomic design also makes it comfortable to use during long hunting sessions. The tube has a 1-inch diameter, so it's easy to install with many common scope mounts. The installation process is straightforward, and it easily fits on various types of rifles.
Glass Clarity & Reticle
This is where the VX-3i really shines. Leupold's glass is crystal clear. The resolution and contrast of the image are superior, even when compared to othe scopes like those from Vortex Crossfire series. You could use this same glass on a camera, and get brilliant results.
There's an anti-glare coating, and let me tell you – it's effective! This coating significantly reduces reflections, enhancing visibility in various lighting conditions. Even on a bright August afternoon, I didn't have to deal with any shine on the lens. However, in extremely bright conditions, a sunshade might still be necessary. The glass works equally well in low light, so you'll be able to hunt during any legal hunting hours.
The crosshairs have a classic design. They offer a clear and unobstructed view, which is crucial for precision shooting. They're fat at the outsides, and taper to an ultra-fine cross in the center. This fine point is perfect for long-range shooting, offering excellent precision. If you're a stickler for droppage hashes, you might not like this.
But I appreciate the simple design. It's especially useful for quick shots, where complicated reticles can be more of a hindrance than a help. Once I'm sighted in for a particular range, the overall sight picture is a lot cleaner.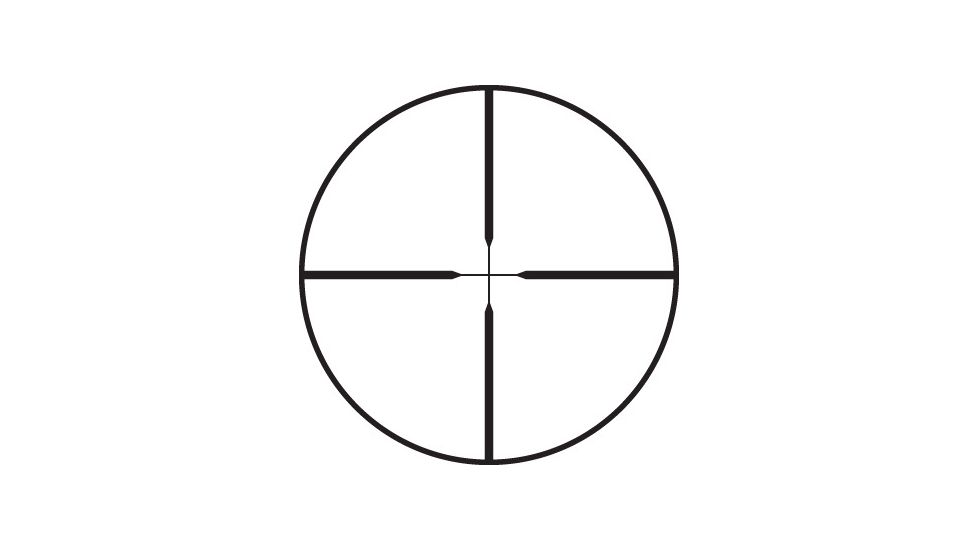 Parallax & Magnification
Just in front of the eye piece is a ribbed adjustment ring with a large flange. It's designed for ease of use, allowing quick and smooth magnification changes without losing sight of the target. It's easy to adjust with one hand, and you can set it anywhere from 3.5x to 10x zoom.
The field of view on this scope is very wide. This wide field of view is a significant advantage when tracking moving targets or scanning a landscape. At 100 yards, you'll have a 110-foot field-of-view at minimum zoom. This is particularly helpful in situations where situational awareness is key, like hunting in dense brush. When you're zoomed in to 10x, you'll still have a 29-foot field of view. Acquiring your target is a breeze – a valuable feature when you're trying to get your crosshairs on a buck.
There's no parallax adjustment on the VX-3i. This might be a limitation for long-range shooters who require fine-tuned adjustments, but for most hunting scenarios, this isn't a major issue. It's a single field of view scope, so that's less of a concern.
Elevation & Windage Knobs
The elevation knob is located directly on top of the tube, about halfway down its length. You'll find the windage knob to the right in a similar location. Both of them are easy to adjust, with a sensitivity of ¼-MOA. The tactile feedback from these knobs is reassuring, though they could be more robust. I would have liked to see a reset-to-zero function at this price, but you can't have everything.
I should point out that this easy adjustment is a double-edged sword. While it allows for quick modifications in the field, it also makes the scope more vulnerable to accidental adjustments if bumped. I found that the crosshairs easily come out of alignment if they're subjected to rough handling.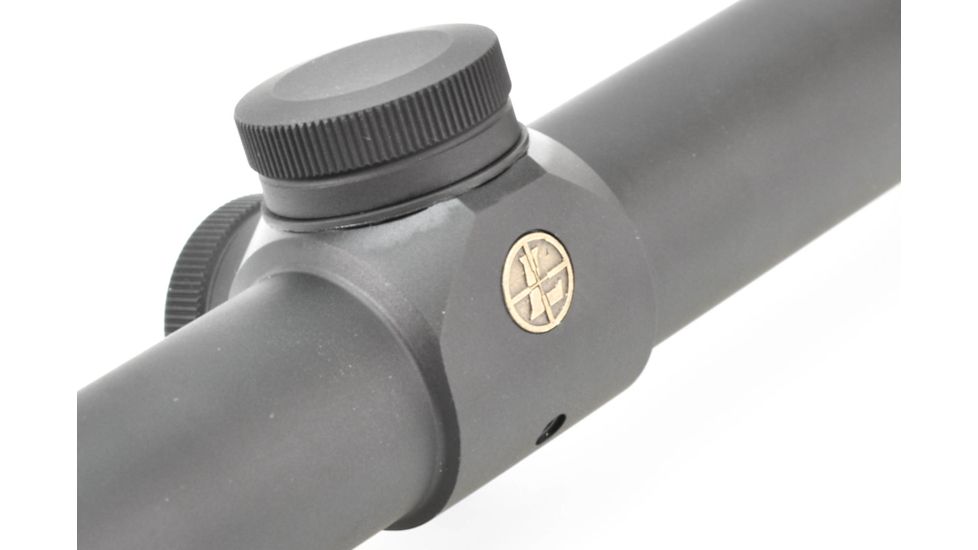 Eye Relief & Eye Box
I absolutely loved the eye relief on the VX-3i. The generous eye relief reduces the risk of scope eye. At maximum zoom, it's 3.6 inches, which gives you plenty of room to move around. When you're zoomed out, this extends to 4.4 inches.
On the bench rest, I didn't notice much difference between this and the earlier scopes. However, in the field, this extended eye relief was a noticeable advantage, especially when shooting in awkward positions or from a standing posture.
Eye relief becomes a much bigger issue when you're standing. This is particularly true when hunting, where quick and flexible positioning is often necessary. You're inherently less stable than you are on a bench rest, and a larger eye box makes it way easier to stay on target.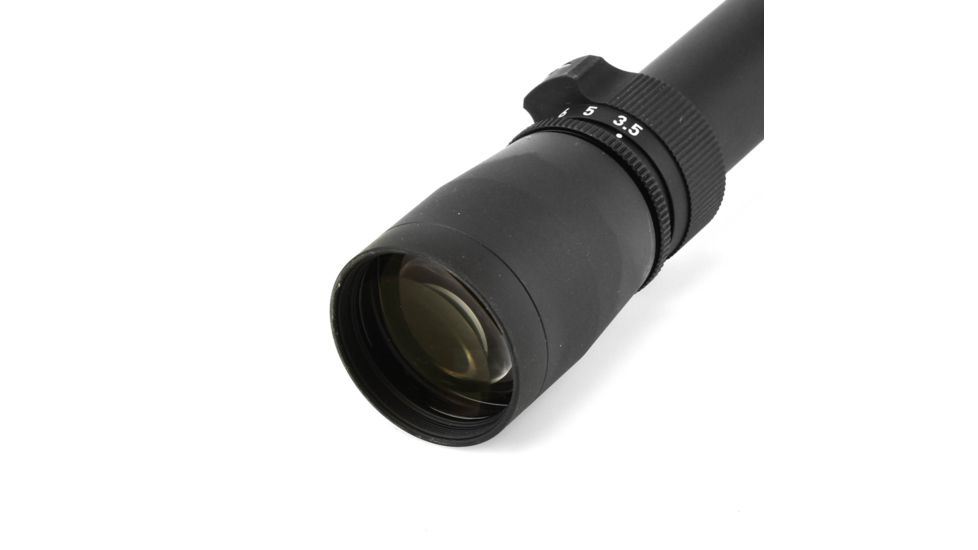 Durability
The Leupold VX-3i is very rugged. Its construction quality reassures that it can withstand the rigors of frequent field use. It's made from anodized aluminum, which is very lightweight but also tough enough to handle some abuse. Its resistance to environmental elements like rain and dust was evident during my field tests. In addition, the lenses are coated with a special scratch-resistant finish. This is particularly valuable for hunters who traverse through rough terrains. If you've ever scratched your optics, you know how helpful this feature can be.
Leupold backs all of their products with a lifetime manufacturer's warranty. Their customer service is responsive and helpful, adding an extra layer of confidence in the purchase.
Is the Leupold VX-3i 3.5-10×40 worth it?
Absolutely! This is a beautiful scope with absolutely pristine glass. The reticle is well-designed, and makes it easy to acquire your target. Its high-quality optics, combined with the wide field of view and generous eye relief, make it an ideal choice for both hunting and target shooting. And with up to 4.4 inches of eye relief, it's a perfect scope for shooting off-hand. This is important for hunting from a deer stand, when it's not always possible to shoulder your rifle.
My complaints were minor. The lack of a parallax adjustment can be a drawback for some advanced shooting scenarios, but it's generally not a deal-breaker for most applications. While the crosshairs can be knocked out of alignment by a rough bump, you should always sight in your rifle before you go hunting anyway. This is a minor inconvenience compared to the overall quality and performance of the scope. Besides which, the VX-3i is otherwise perfectly capable of taking a beating.
Pros:
Crystal clear multi-coated glass

Plenty of eye relief

Very wide field of view

Easy target acquisition
Cons:
Crosshairs are easy to knock out of alignment

No parallax adjustment

Knobs could be more robust and less sensitive to accidental adjustments
4. Vortex Optics Crossfire II 6-24×50 – Best for Long Ranges
The Vortex Optics Crossfire II 6-24×50 is a bit bigger than the other scopes I've listed. It measures 14.5 inches long, with a wide 50mm objective lens. This larger size offers a significant advantage in light gathering, resulting in brighter images, especially in low-light conditions.
However, this larger objective lens comes at a cost; the scope weighs 23.6 ounces, or 1.475 pounds. My Ruger American Rifle weighs 6.2 pounds. Add the scope, and it tipped the scales at 7.675 pounds. I could definitely feel the difference. The additional weight, while noticeable, contributes to the stability of the rifle during shooting.
On the plus side, mounting is pretty easy. The universal 30mm main tube is a bonus, fitting a wide range of rifles without any fuss. The 30mm main tube will fit in a large number of modern scope mounts.

Glass Clarity & Reticle
The Crossfire II has excellent clarity and color fidelity. Compared to similar scopes in its price range, like the Bushnell Legend series, the Crossfire II stands out for its superior edge-to-edge clarity.
I really liked the reticle on this scope. The slim design of the reticle is perfect for precision shooting, offering a clear view without cluttering the sight picture. It's a slim crosshair that turns into a set of dots near the center. These dots are particularly helpful in compensating for bullet drop and wind drift.
It's also a second focal plan reticle. This means that while the size of the reticle stays constant, it's easier for shooters to maintain perspective on the target at varying magnifications. When you zoom in or out, the reticle remains the same size. Whether or not you like this feature will depend on what you're doing with your rifle.
For other scopes for long range shooting, see my sniper rifle scopes guide.
Parallax & Magnification
The zoom adjustment ring is fat and ringed, making it easy to grip and adjust, even with gloved hands. It also has little white numbers, so you know what your zoom level it is. In total, you can get anywhere from 6x to 24x magnification. This wide range of magnification makes the scope versatile for both short and long-range shooting.
The field of view is a bit narrow. At 100 yards and minimum magnification, it will be 17.3 feet. This narrow field of view at high magnification can be limiting when tracking moving targets. At 24x, the field of view will be just 4.4 feet. Then again, keep in mind that 24x is a ridiculous level of magnification. You'll never zoom in that far when you're shooting less than 200 yards.
At the front of the housing is a parallax ring, marked with similar white numerals. This adjustable parallax is a significant feature, offering more accuracy at different ranges. It can be adjusted anywhere from 10 yards to infinity.
Elevation & Windage Knobs
The elevation and windage knobs are both capped, which is great for protecting the settings during rough outdoor conditions. You can easily adjust the knobs with your fingers, and they're sensitive to ¼ MOA. The tactile feedback and precision of these knobs are impressive, allowing for fine-tuned adjustments. The elevation knob also has a reset-to-zero function. This feature is extremely handy for shooters who frequently change shooting distances. You can switch from 100 yards to 200, then return to 100 yards with a single click.
I actually tested this scope when I was looking for the best .308 scope. Unfortunately, the recoil would knock the crosshairs out of alignment after I went through a couple boxes of ammo.
No issues this time around! With the .243's much lower recoil, the crosshairs remained firmly fixed in place.
Eye Relief & Eye Box
The Crossfire II has four inches of eye relief. This generous eye relief is a major advantage which makes it great for use on larger-frame rifles, where getting close to the scope is awkward.
I particularly enjoyed using this scope when shooting off-hand. The ample eye relief and large eye box made it easier to acquire and reacquire targets quickly. It was easy to keep on target. I can also attest that this feature would be invaluable on semi-automatic rifles, where rapid follow-up shots are often necessary. And while I was using a bolt-action rifle, I can tell you that better eye relief is even more important on an autoloading rifle. The easier it is to stay on target, the faster you can take a follow-up shot.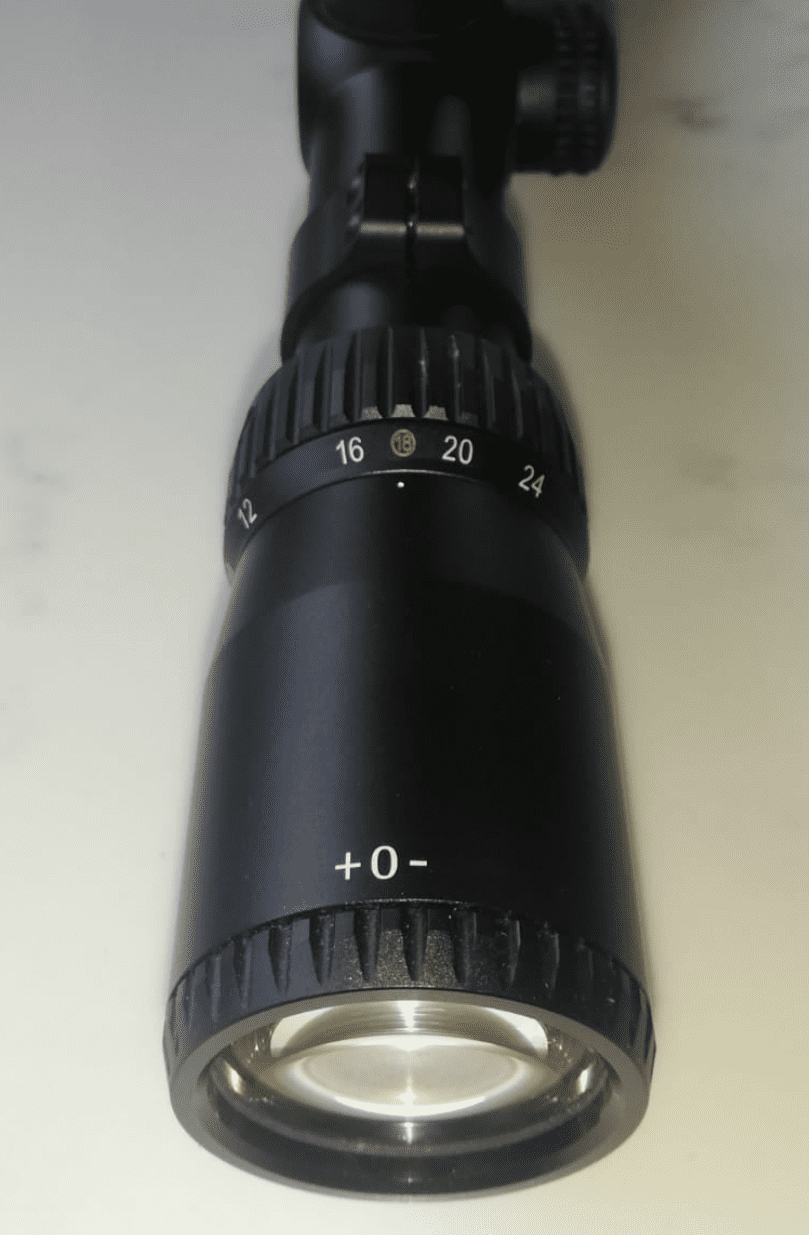 Durability
This scope has an anodized aluminum housing, and it's shock- and impact-resistant. Its robust construction provides confidence in its ability to withstand the rigors of outdoor use. I'd expected as much, since it's made by Vortex, and they're well-known for their durable scopes.
You also don't have to worry about fog, condensation, or water. The aluminum tube is completely corrosion-resistant, and it's nitrogen-purged and O-ring sealed. This makes it an excellent choice for hunting in varied weather conditions.
I tested it in the morning, after it had rained all night and the temperature had dropped significantly. Despite these challenging conditions, the scope's performance was flawless. My image was crystal clear, with no fogging whatsoever.
Is the Vortex Optics Crossfire II 6-24×50 worth it?
The Vortex Optics Crossfire II 6-24×50 is a very well-designed scope. It's ideal for long shots, where high degrees of magnification are required. That said, it's also well-equipped for shooting at 50 yards, and you can adjust the parallax as close as 10 yards.
As an added bonus, the scope seems very durable. The versatility in magnification and the return-to-zero feature make it a great choice for a wide range of shooting activities. Return to zero is a great feature that you won't often see on a scope of this price. All in all, it's a great bargain.
Pros:
Beautiful clear glass

Plenty of eye relief

Easy windage and elevation adjustment

Exceptionally durable
Cons:
A bit heavy

Narrow field of view at high magnifications
Wrapping Up
Like I said, I liked all four of these scopes, and they've all earned a place in my gun safe. But which one is your top choice?
If you have a favorite .243 scope, let me know in the comments!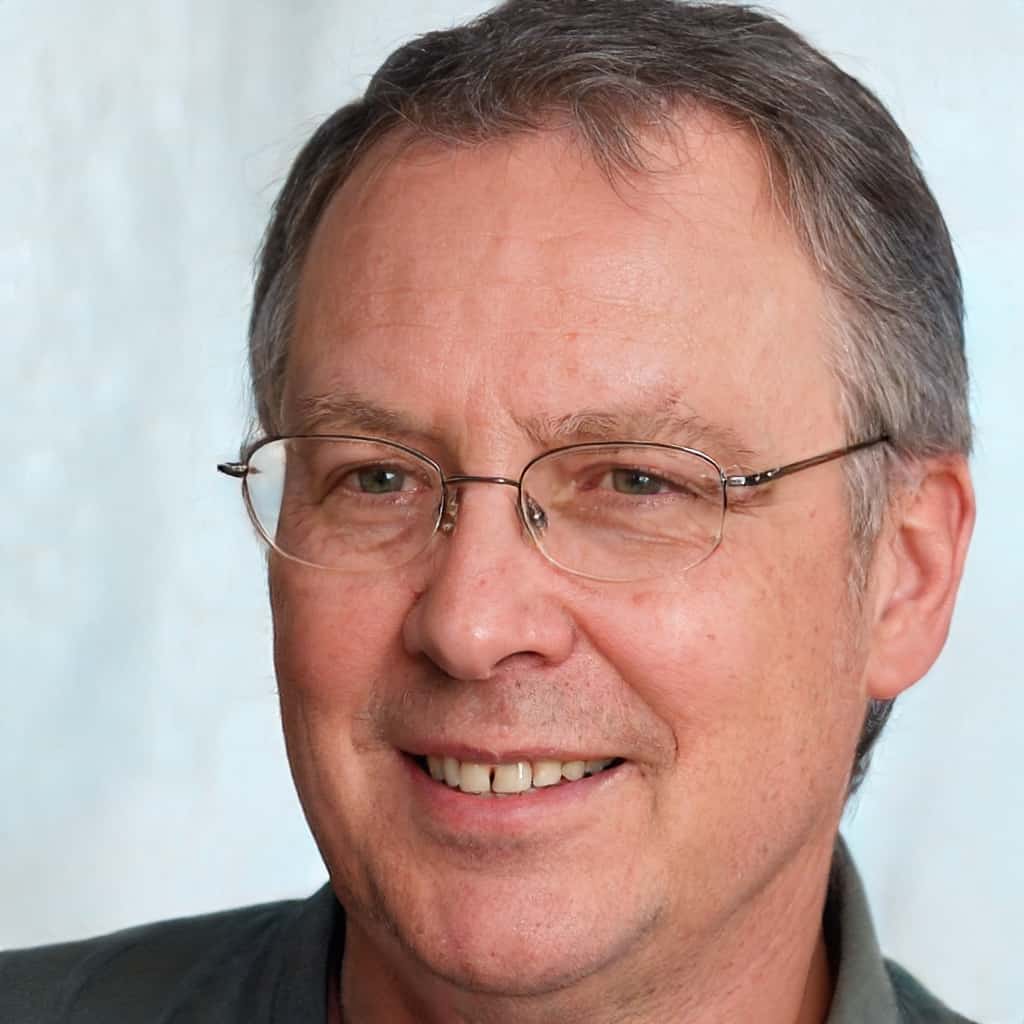 Jerry Miculek is an experienced firearms and optics expert.  Guns are not just a hobby for him, they are his passion and life. You can learn more about Jerry on our About us page.