The Remington 700 is one of the most beloved bolt-action rifles of all time, and the .30-06 700 in my safe gets a workout more often than many other guns in my collection. This is also one of the most popular hunting platforms for larger game, which means you can find them in multiple calibers and variations. 
I've also had the opportunity to try many of the various scopes that are available for the Remington 700, and out of the countless optics systems on the market, there are only a few that stand out from the crowd. Some are just good scopes, and others are something truly exceptional for the 700. 
We're going to take a look at the best Remington 700 scope options for 2023, including the best glass for both the .30-06 and the .308 versions. We'll look at the overall best scope for your money, as well as the best one for long range, and a solid budget scope.
You Don't Have to Take My Word for It
While I've personally tested each of the scopes on our list, you should also remember that your needs and wants may be different from mine. Even though I put a significant amount of time and ammo into making sure that each category is useful, you may find that the conclusions I've drawn differ from yours. That's to be expected, but no matter what you're looking for there should be something on this list that will fill that need.
What Makes a Good Remington 700 Scope?
There are a handful of factors that go into a good Remington 700 scope. First, the quality and clarity of the glass need to be top-quality. Next, the magnification needs to be useful, since you probably aren't using your 700 for a lot of close-range action.
The reticle is also something that counts for a lot, in my book. Some scopes have useless reticles, poor shapes, no holdovers, and so on, so the reticle of the scope needs to pack in some good info without getting too crowded. Finally, it may sound like common sense, but the scope needs to stand up to the kick of a Remington 700. Your rifle has some power, and you don't want that power to move your zero.
The Best 4 Scopes for Remington 700
1. Primary Arms SLX 1-6×24 SFP Rifle Scope Gen III – Best For Remington 700 .308
My top pick for the best scope for Remington 700 .308 is the Primary Arms SLX. It is a second focal plane (SFP) scope that features a unique reticle called the ACSS, or the Advanced Combined Sighting System. The ACSS is arguably one of my favorite features of the Primary Arms SLX, other than the superb image quality. 
This 3rd generation scope comes hot on the heels of the 2nd generation flagship scope, and it takes everything that Gen II was, and adds to it. The clear, bright image lets you acquire your target smoothly and easily, and the partial illumination has 11 levels of brightness powered by a common CR2032 wafer battery.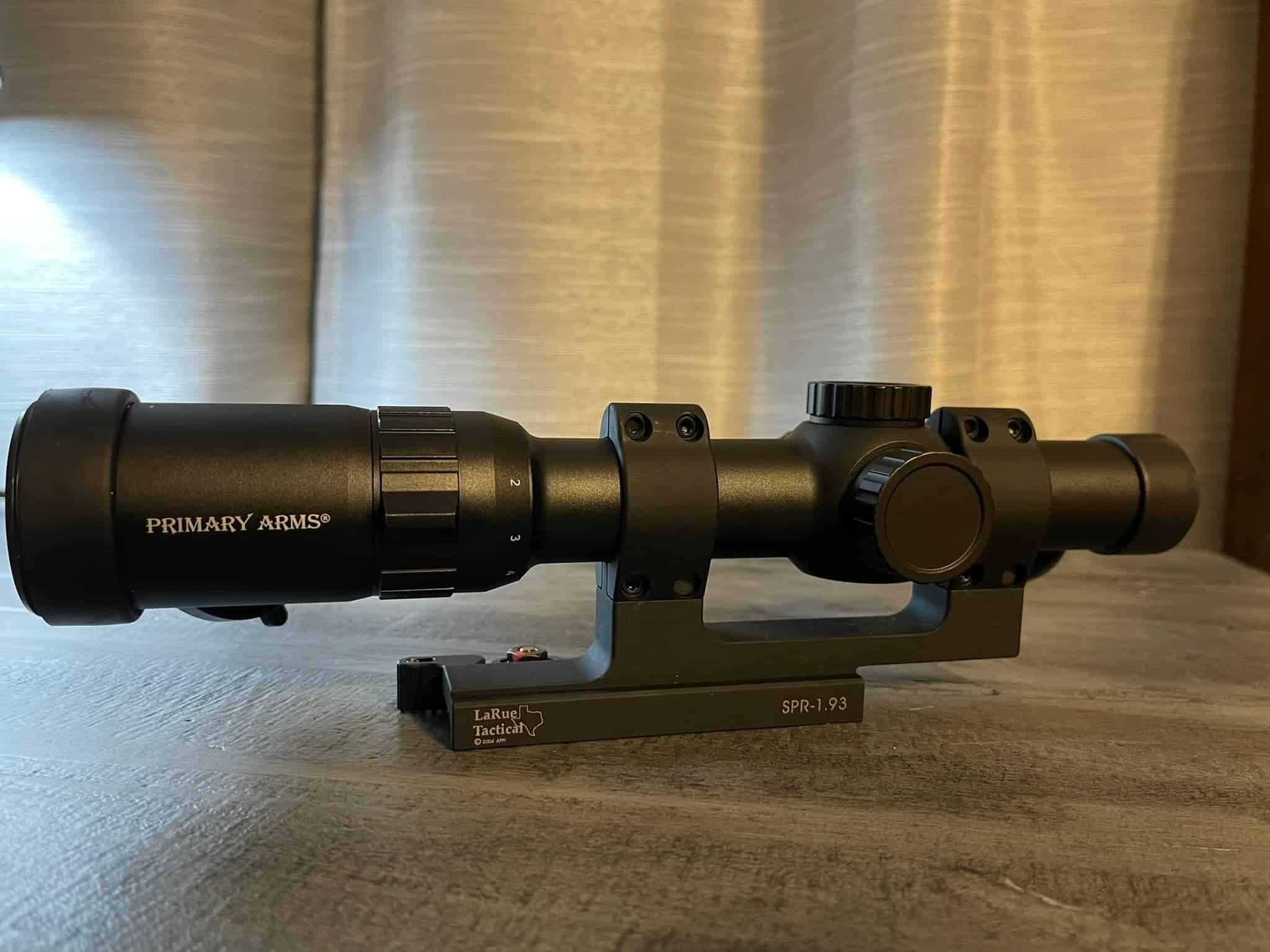 I also love that this scope is completely IP67 waterproof and fog resistant, with the aircraft-grade 6063 aluminum alloy tube standing up to just about anything you can throw at it, and anything you can throw it at. There are a hundred reasons this is one of the best low-powered variable optics, or LPVOs, on the market today, but we're only going into the biggest ones.
Glass Clarity & Reticle
I had to set my expectations accordingly before checking out the image quality since many LPVOs are designed with smaller objective lenses that don't gather as much light as you'd like them to. The image is crystal clear at all magnification levels and has minimal distortion.
The reticle is really where this scope excels. The ACSS is one of the most well-designed and functional reticles I've used, ever. It is designed to be used in a more defensive shooting scenario, comes calibrated for several ammo types, and is created to facilitate faster firing and accurate shots on moving targets. That's right, the ACSS has marks for targets moving at both 3.1 mph and 8.6 mph, and even has a 5 mph wind hold.
The reticle does have partial illumination, and the brighter settings out of the 11 individual brightness settings are easy to see in the midday sun. The reticle is accurate out to 400 yards, which is just about the maximum range that you'll be shooting in nearly all situations. While the center dot is not as precise as a 1 MOA dot, it works incredibly well at all levels of magnification.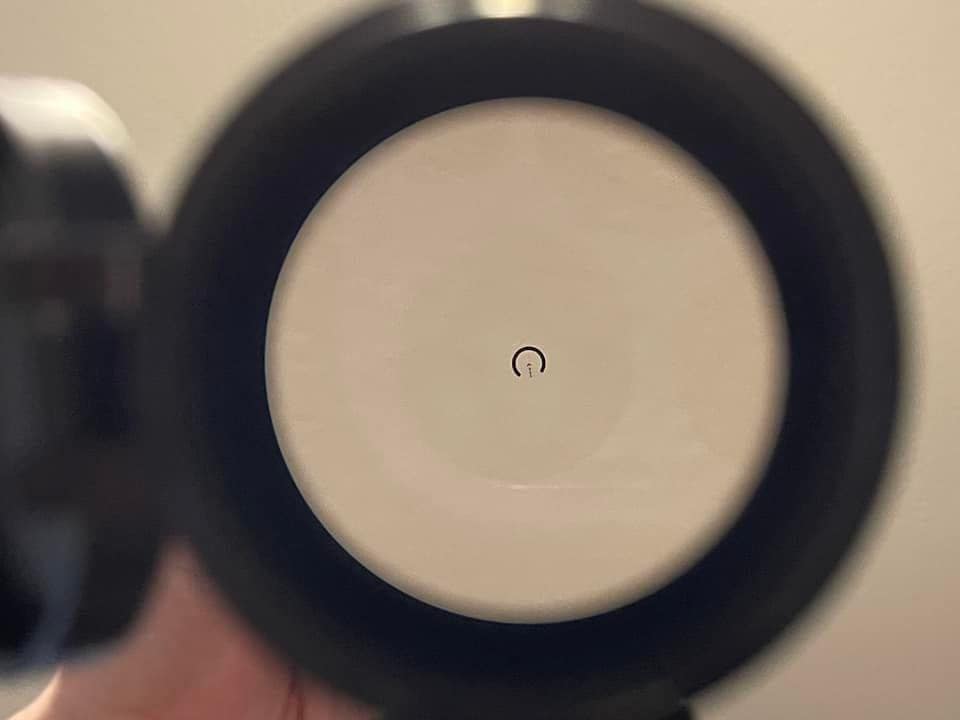 Parallax & Magnification
The magnification of the Primary Arms SLX is variable from 1x to 6x, and you'll appreciate the relatively wide field of view for a 24mm objective lens. At 100 yards, the Primary Arms SLX 1x magnification can see a wide field of view of 110 feet. At 6x magnification, the field of view is still 19.3 feet across. There is slight distortion at low zoom levels, particularly 1x, but that is to be expected in some cases.
Elevation & Windage Knobs
The turrets on the Primary Arms SLX are solid and accurate. They adjust at a ½ MOA per click, and my box test determined that the adjustments were as accurate as I could prove with my setup. The windage and elevation adjustments on the Gen III Primary Arms SLX have an even wider range of adjustment than the Gen II scopes, with an additional 10 MOA of range.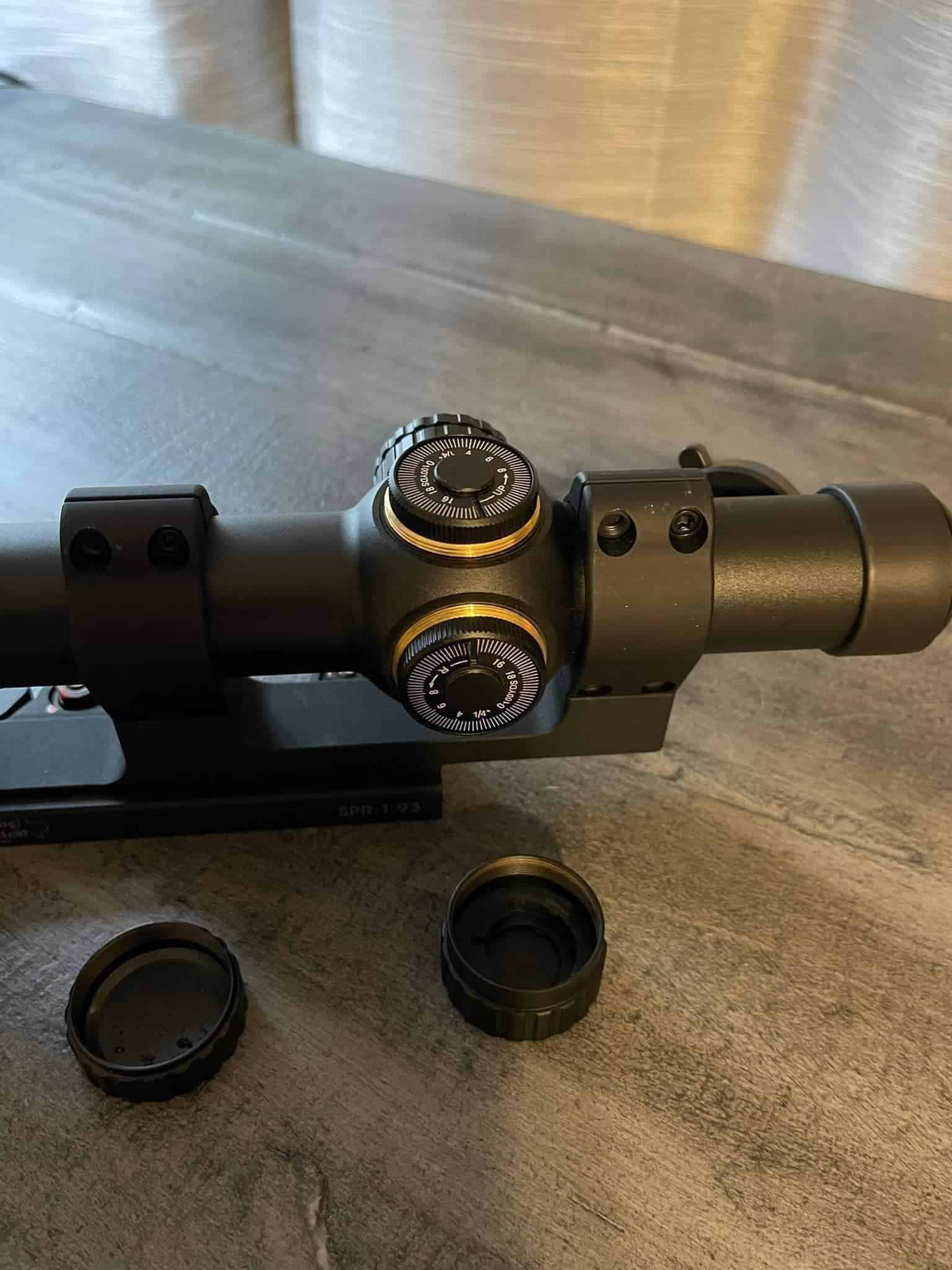 Eye Relief & Eye Box
The eye relief of the Primary Arms SLX is a comfortable 3.5 inches on low magnification and 3.3 inches on high. This gives plenty of room for the safe operation of the firearm, as well as a little room for comfort. I feel like the eye box is more or less average for this class of scope, but the reticle design helps make target acquisition a split-second affair.
Durability
The durability of Primary Arms scopes is well-known, and the Primary Arms SLX doesn't disappoint. Even with full submersion in water and mud, the scope stays fog and moisture-free. The aluminum housing held up easily to a standard drop test and didn't even lose its zero in the process. The scope ring and mount hardware are also incredibly robust and can be torqued down without slippage or stripping the bolts.
Is the Primary Arms SLX scope worth it?
The Primary Arms SLX is worth it, even if it's a little more costly than other optics. It gives you a solid LPVO system for your Remington 700, with clear images and a rock-solid zero. You can easily use this for general defense or hunting with no issues. 
Pros
Crystal clear imaging

Waterproof, durable tube

Mount stands up to powerful .308 recoil

Crisp adjustment clicks on the turrets

Additional battery storage in the cap
Cons
Low light transmission makes use before dawn and after dusk challenging
2. Leupold VX-3HD 4.5-14x50mm Riflescope – Best For Remington 700 .30-06
Leupold is one of the most popular and respected optics manufacturers, so it's no wonder they have the best scope for .30-06 Remington 700 with the Leupold VX-3HD 4.5-14×50. This scope is just one notch below the super-popular VX 5 HD scope but is far more affordable while still bringing the same performance that you would expect from a Leupold sight. 
When I tried out this scope, the first thought I had was that this scope would be perfect for hunting applications that don't need long-distance shots but needs to operate flawlessly in the mid-range space. This is important to remember because even though it has a max magnification of 14x, your ammo probably won't be able to maintain effectiveness for the full range of this scope.
Glass Clarity & Reticle
Leupold is known for its lens and image quality, and the Leupold VX-3HD is a perfect representative of that level of quality. One of the things I was initially surprised at was the image quality from a scope on this price tier. The field of view in particular was incredibly impressive, and since the eye box is so comfortable, your image won't have the dreaded black ring or "tunnel" around it. The image is bright and brilliant, and while there's a little quality loss at the higher magnification levels, it isn't game-breaking, and it's also to be expected to some extent. The reticle is a simple duplex, which while isn't overly complex, does give you important information, and has sufficient holdover markings.
Parallax & Magnification
While the Leupold VX-3HD isn't technically a long-range scope, it does still offer a very easy-to-use side parallax adjustment. This gives you up to 15 MOA of adjustment with your CDS Zero Lock dial if you need to make a much longer shot.
With a 4.5x to 14x magnification range, you can more or less cover any hunting or defense situation you may find yourself in. The zoom is silky smooth, and you get a throw lever as well, which makes quick adjustments simple. While maxing out the zoom does require you to move closer for the shorter eye relief, it's still comfortable and doesn't seem excessive, though it is noticeable.
Elevation & Windage Knobs
The windage and elevation adjustments are nice and tight, and they provide a special Zero Stop feature that lets you lock the turret into place with a special button. This makes keeping your zero simple, while still allowing for adjustments in the field to fit your shooting conditions. You have 75 minutes of windage adjustment, and 75 minutes to adjust for elevation as well, which is a relatively wide range.
You can set your permanent zero by taking the cap off of the turret with the allen screws. Then adjust your turret to where you need your zero to be, and simply reinstall the cap to lock in your zero. Just make sure you throw the cap removal tool in your bag or you won't be able to change your zero later.
Eye Relief & Eye Box
This is a category where the Leupold VX-3HD outshines most others in the class. It doesn't matter how great a scope is, if it's uncomfortable or inconvenient to use, which is why the eye box is so important. At high magnification, the Leupold VX-3HD has 3.6 inches of eye relief. At low magnification, it has a massive 4.4 inches. 
Durability
Leupold has a rigorous and occasionally devastating quality control system in place that tests the recoil-handling ability of every scope they put out. This test is "The Punisher" which subjects the Leupold VX-3HD to a minimum of 5,000 impacts of a recoil force that is triple the recoil force of your .30-06. This makes sure that the scope is assembled to the exacting requirements of Leupold.
The tube itself is made from aircraft-grade aluminum. It is completely designed, machined, and assembled in the USA to be 100% fog proof, waterproof, and shockproof. I often hunt in heavy timber or mountain situations, and this scope is ready to take those long trips out in the bush, keeping you zero the whole time.
Is the Leupold VX-3HD scope worth it?
The Leupold VX-3HD is one of the more costly scopes in its class, but you also get some amazing features. If you have the cabbage to put down, the Leupold VX-3HD is arguably the best scope for a .30-06 Remington 700. You're paying a bit for the Leupold name, sure, but that Leupold name also has some of the most demanding quality controls in the industry.
Pros
Forgiving eye box

Large objective lens makes low-light shots much easier

ZeroLock Custom Dial System makes setting a permanent zero simple

Elite Optical System cuts glare and boosts light transmission.
Cons
The reticle is a little plain, though functional

Price point tends to make it less accessible
3. Vortex Optics Crossfire II 6-24×50 BDC – Best Long Range Scope
When you need a long-range scope, the Crossfire II from Vortex Optics has your back. Not only is this scope fairly affordable, it has incredible magnification, allowing you to see targets far away from you. It's also lightweight and easy to mount. Immediately after unboxing it, one of the first things that you'll notice is the turrets that are simple to adjust.
If eye relief is important to you, the Crossfire II would be a smart choice, as it has long eye relief so you don't have to worry about getting a black eye if your rifle kicks back. No matter what type of shooting situation you're in, whether you're at the shooting range, hunting, or taking your Remington 700 out for tactical practice, the Vortex Optics Crossfire II has a lot of features you'll enjoy.

Glass Clarity & Reticle
One of the most important parts of a scope is the glass. The Vortex Optics Crossfire II has reduced glare, thanks to the layers of anti-reflective coating on the fully multi-coated optics. This also allows fairly decent light transmission. However, if you are in a low-light setting, it isn't the brightest scope around. There are 2 different reticles that you can choose from, depending on your preferences. You can go with the BDC or the simple duplex style.
Parallax & Magnification
The Vortex Optics Crossfire II has a fixed parallax of 100 yards, but this can be adjusted to fit your needs. Where this scope shines is the magnification. In many cases, you won't need more than 12x or so, but when you need to be able to aim at a target that's further away, you want a scope that will get the job done. This one can go all the way up to 50x. From target practice to hunting, you'll be able to see your target easily.
Elevation & Windage Knobs
When you're out using your Remington 700, having a scope that is easy to use and adjust is really important. The Vortex Optics Crossfire II has capped finger adjustable turrets with the zero reset feature, making adjustments a breeze. The downside to the knobs is that they do not have audible clicks.
Eye Relief & Eye Box
The Vortex Optics Crossfire II does have generous eye relief, which comes in handy if you'll be wearing glasses while shooting, but the downside is the eye box is not very forgiving. You have to be very exact in your positioning if you want to be able to fully see the sight picture. Along the edges, it's not uncommon for things to be a bit blurry as well.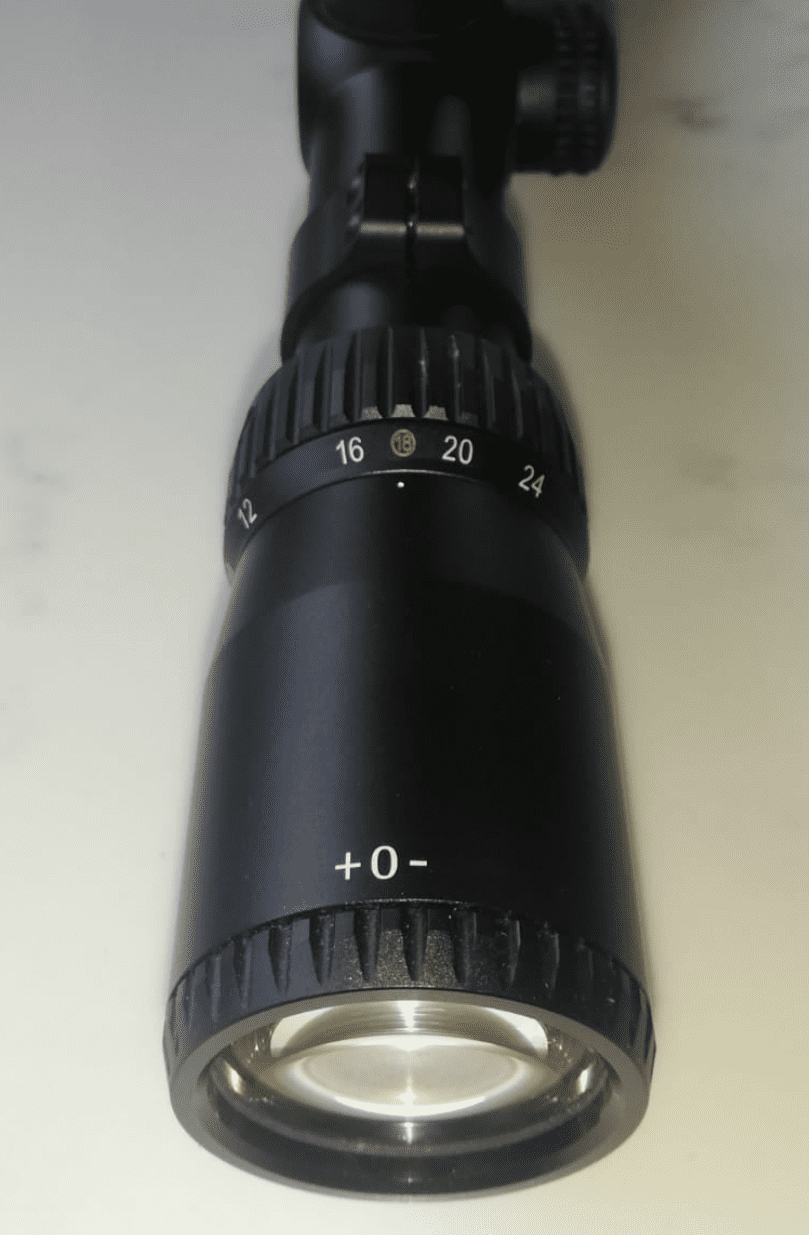 Durability
When you're shopping for a new scope, durability is really important. Luckily, you won't have to worry too much about whether or not you'll damage the Vortex Optics Crossfire II. This scope is solid, with minimal chance of damage happening. It is constructed from a single tube of aircraft-grade aluminum. It's also O-ring sealed and purged with nitrogen, which makes it shockproof, fog proof, and waterproof. You'll be able to take this out no matter what type of weather you're experiencing.
Is the Vortex Optics Crossfire II scope worth it?
Overall, the Vortex Optics Crossfire II is a decent scope and would be worth buying. The only thing to keep in mind is that the eye box is not very generous, so you'll need to pay attention to that when using your scope, but overall this is a good choice. It is super durable and allows long-range shooting. You don't have to worry that the deer you've been trying to get is going to be too far away and out of your field of view.
Pros
Vortex Optics offers a lifetime transferable warranty

Good price for the magnification

Fully multi-coated lenses allow a clear view at various magnification
Cons
Poor light transmission in low light situations
---
4. Bushnell Banner Dusk & Dawn 3-9×40 – Best Budget Scope
The Bushnell Banner Dusk & Dawn is one of the most popular budget rifle scopes around, and for good reason. It's a lightweight, sturdy choice whether you're shooting at the range or you're out on a hunting trip. When I used this scope on my Remington 700, one of the first things I noticed was how nice and lightweight it is.
If you're looking for an easy-to-operate scope that won't break the bank, this is the one for you. Adjustments are straightforward to understand, the optics are crystal clear, and the 9x magnification is a big help when you need to see a target that is further in the distance. Finding another scope of this quality for such an affordable price is going to be a pretty hard feat to accomplish.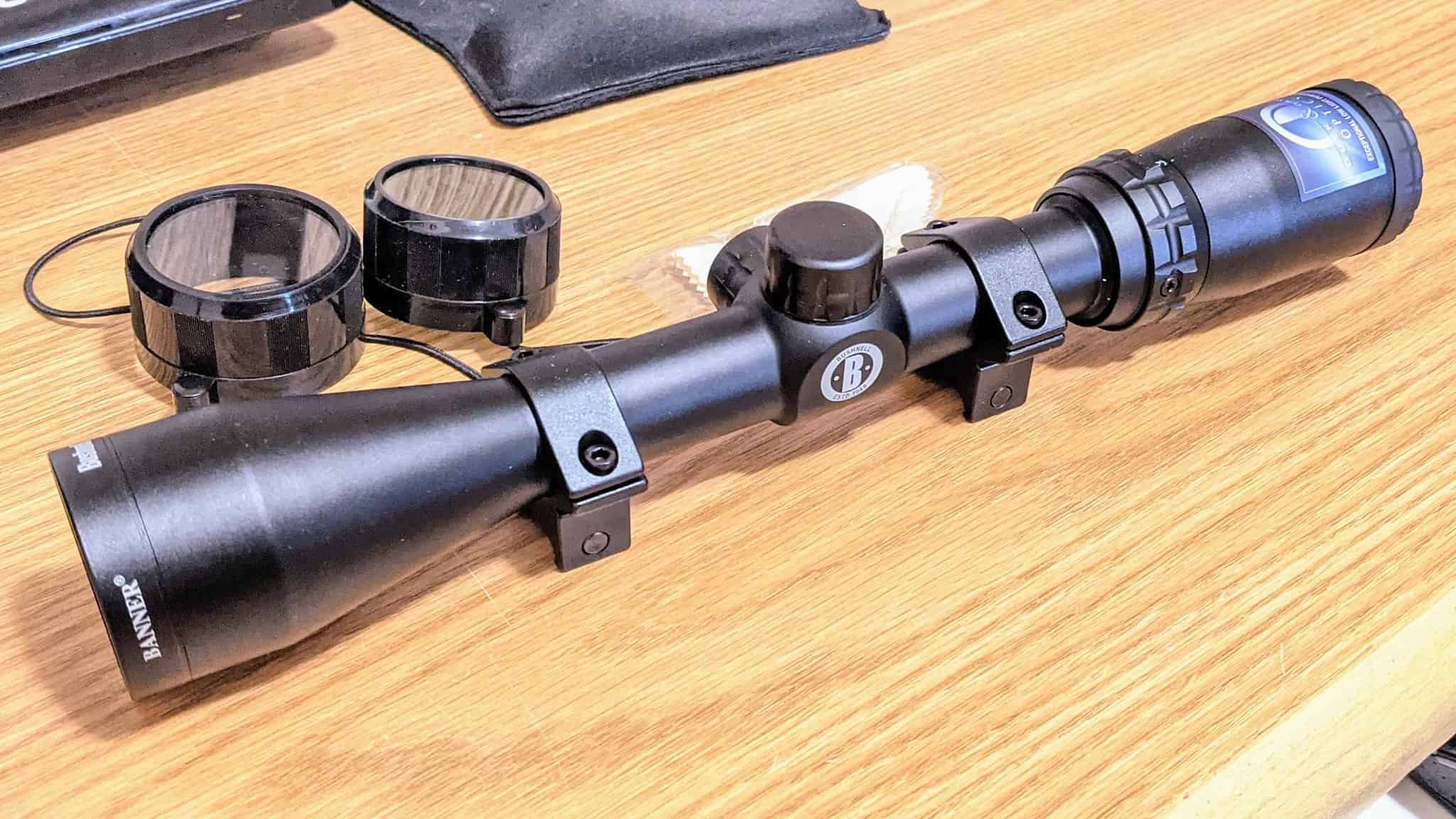 Glass Clarity & Reticle
One of the biggest perks of the Bushnell Banner Dusk & Dawn is how bright it is! Thanks to the Dusk & Dawn Brightness (DDB) multi-coated lens, this scope provides excellent clarity even in low-light situations.
The Multi-X reticle is on the second focal plane, so the reticle does not change sizes no matter how many times you adjust your magnification. It has a nice, fine aiming point that makes hitting your target a breeze.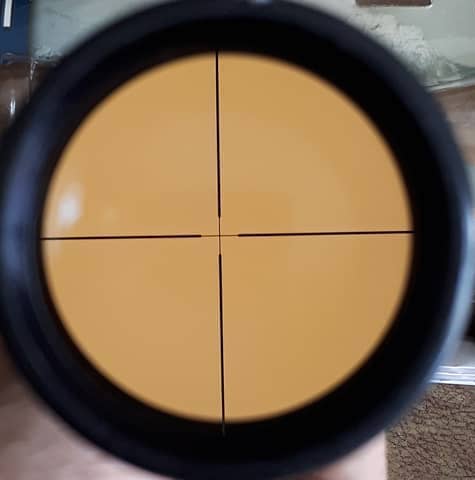 Parallax & Magnification
The Bushnell Banner Dusk & Dawn has a magnification of 3-9x and an objective lens of 40mm, making this a great choice if you'll be using your Remington 700 for medium-range shooting. You'll have plenty of clarity for targets between 100 and 500 yards away from you.
Elevation & Windage Knobs
Are you tired of scopes that don't give a clear indication as to what setting you're on? Sure, you can look at the knob, but there has to be something better. The Bushnell Banner Dusk & Dawn's adjustment knobs don't leave you guessing. They have audible and positive clicks to let you know that you've gone so many notches from where you were previously.
You can make finer adjustments, thanks to the ¼ MOA capped turrets. There is no zero-stop functionality, but having finger-adjustable parts makes up for it.
Eye Relief & Eye Box
One of the areas in which I felt this scope could have been a bit better is in the eye relief department. When set to the lowest magnification, it is very comfortable. Unfortunately, the more you zoom in, the tighter the relief gets. If you wear glasses or need to ensure you have generous eye relief for any other reason, the 6-inch eye relief version would be a better choice for you.
Durability
This is a scope that was built to last. While it is affordable enough to replace if it gets damaged, nobody wants to replace their scope all the time. Luckily, the Bushnell Banner Dusk & Dawn is fog-proof, shockproof, and dry nitrogen filled to make it 100% waterproof.
Whether you're looking for a scope you'd feel comfortable letting a kid learn with or you just want something super sturdy for yourself, this would be a good option. When I took it out to practice, I dropped it in my driveway right after it had rained and had no problems with it afterward.
Is the Bushnell scope worth it?
For anyone that's in the market for a new scope, but doesn't have a huge budget to work with, the Bushnell Banner Dusk & Dawn is worth it. It's got a ton of great features but comes at a very affordable price point.
This scope is built to last. It's shockproof, fog proof, and waterproof. Plus, all of Bushnell's scopes have a 30-year warranty, just in case.
Pros
Lightweight

Nice, bright reticle is perfect for low-light situations

Adjustments are easy and require no tools

One of the most affordable options around
Cons
Eye relief could be better
Conclusion
So, as you can see, there are some incredibly solid scopes for your 700 without dropping $1,000. While all four of the scopes we've highlighted are good options, there are benefits to some depending on what your shooting situation and needs are. As long as you factor in the context in which you'll be using it, you're bound to make a well-informed decision.
For example, if you need a scope for long-distance shots of 500 yards or more, you just can't go wrong with the Vortex Crossfire II. On the other hand, if you aren't trying to touch targets too far away but you need something that's going to stand up to the firing cycle of your .30-06, the Leupold VX-3HD is going to rock your world. 
No matter what flavor of 700 you're partial to, there's a scope in this list to help you track your targets. Consider what you need it for and factor in your budget, and you'll be able to find the perfect scope for your needs.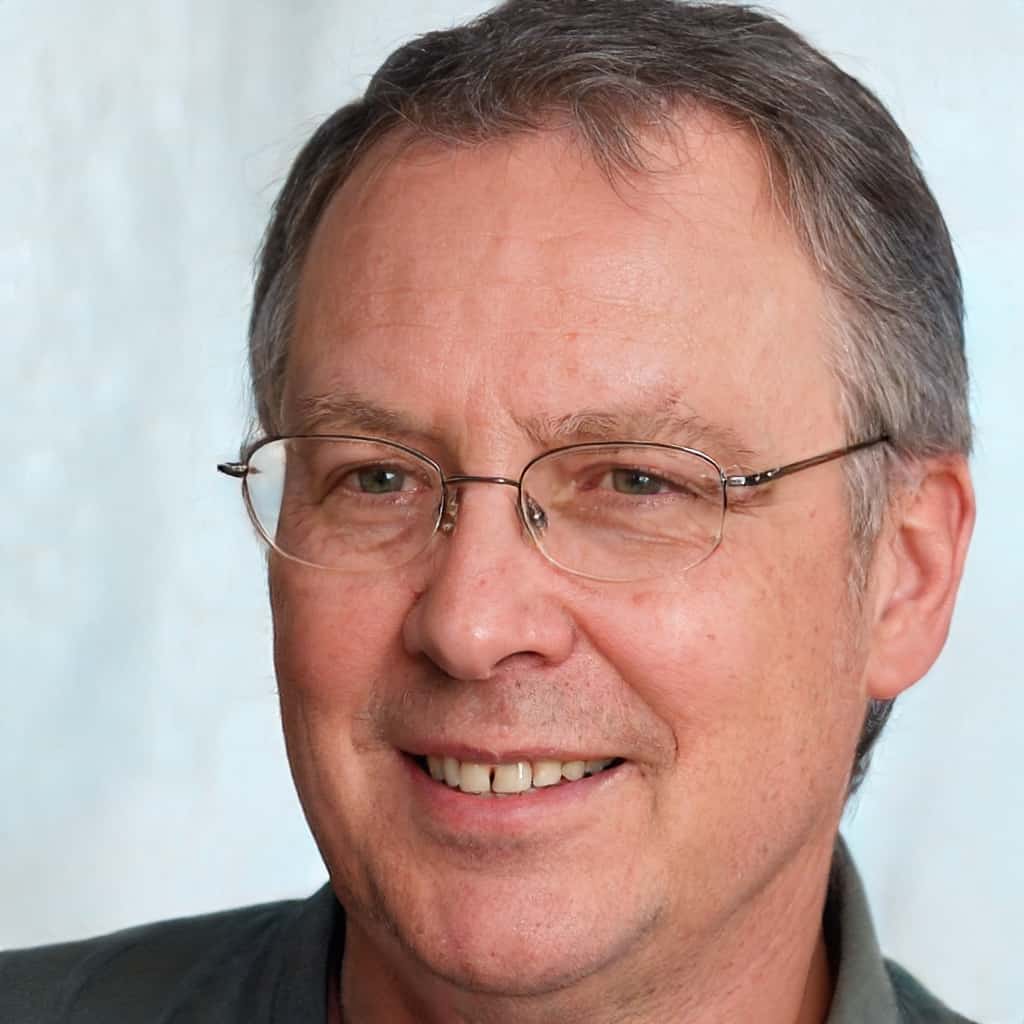 Jerry Miculek is one of the most versatile shooters in the world. Guns are not just a hobby for him, they are his passion and life. You can learn more about Jerry on our About us page.