The .338 Lapua Magnum, often shortened to .338 Lapua, is a very powerful long-range cartridge. It's capable of bringing down big game like elk and grizzly, and it's a favorite of African big game hunters.
It's also a popular long-range target shooting round. You can hit a dinner plate at 1,000 yards, provided you've got a good enough rifle.
But whether you're hunting or shooting on the range, you're going to need a good scope.
In this guide, I'll go over four .338 Lapua scopes that could be considered the best scope for .338 Lapua.
Why Should You Believe Me?
That's what I do.  In my search for the best scope for .338 Lapua Magnum, I tried over a dozen options. Most of them got returned.
These are the four scopes that exceeded my standards.
The 4 Best Scopes for .338 Lapua
These are my top picks:
1. Vortex Optics Diamondback 6-24×50 – The Best Scope for .338 Lapua
Vortex is famous for making high-quality optics at a reasonable price. The Vortex Optics Diamondback 6-24×50 is no exception.
This is a lightweight scope that's perfect for use in the field. It weighs just 16 ounces, with a length of 14.5 inches and a 50mm objective lens. It also has a 30mm tube, so you can use it with a whole slew of mounting rings. I found the weight and size ideal for long treks in rugged terrain, as it didn't add much bulk to my rifle setup. The versatility in mounting options also made it easy to switch between my hunting and target shooting rifles. During a recent elk hunting trip, its light weight was particularly noticeable and appreciated when navigating through dense forests and over rough terrain.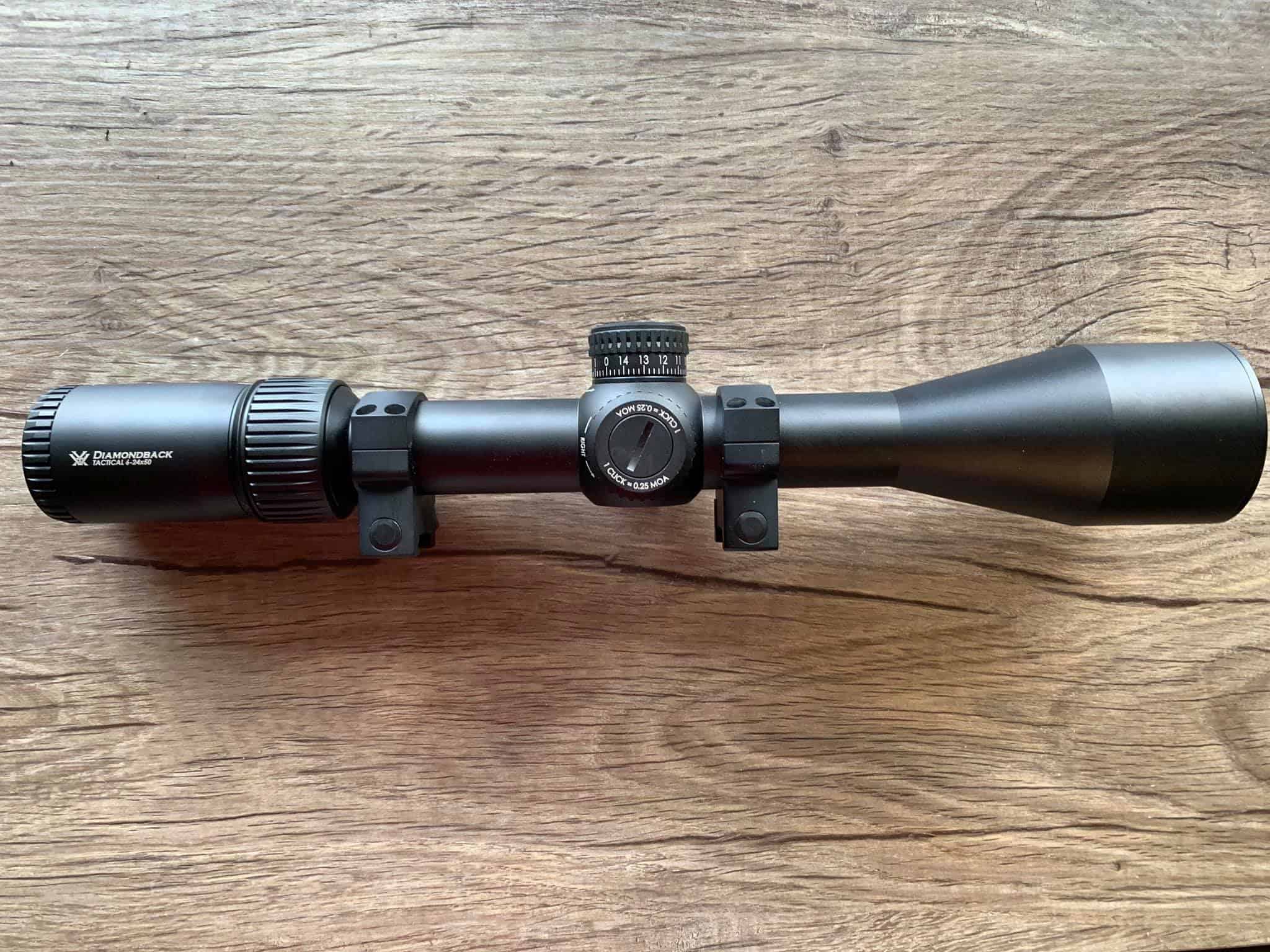 Glass Clarity & Reticle
The Diamondback boasts a low-dispersion glass with plenty of clarity. The image didn't get murky or foggy, even when I looked far downrange at maximum zoom. In comparison to other scopes in the same price range, the Diamondback's clarity was superior, especially in low light conditions.
The lenses are fully multi-coated, and you don't have to worry about glare. Even on a sunny day, the sun didn't mess with my shooting. This anti-glare performance was a significant advantage during early morning hunts when the sun was low on the horizon. On a recent trip to the shooting range, the anti-glare coatings proved effective under the bright midday sun, maintaining clear visibility without any distraction.
This is a first focal plane scope, which means that the reticle zooms in and out along with the lens. It will get larger when you zoom in, and smaller when you zoom out. This feature was especially helpful for long-range shooting, allowing for precise adjustments. However, at the highest magnification, the enlarging reticle could obscure smaller targets, which took some time to adapt to.
Many beginning shooters find this annoying, but it serves a purpose. The reticle has ultra-fine crosshairs with MOA hashes along the entire length and numeric indicators out to 32 MOA. There's even a pyramid of dots under the center, so you can make complex adjustments for windage and elevation. However, the small size of the markings can be challenging in varying light conditions, requiring a bit of a learning curve to get used to. In a recent precision shooting competition, the detailed reticle enabled me to make accurate windage and elevation adjustments, but the small markings were a bit hard to see in the fading evening light.
Be warned: the markings are very small. If you don't have great vision, you'll have trouble making them out.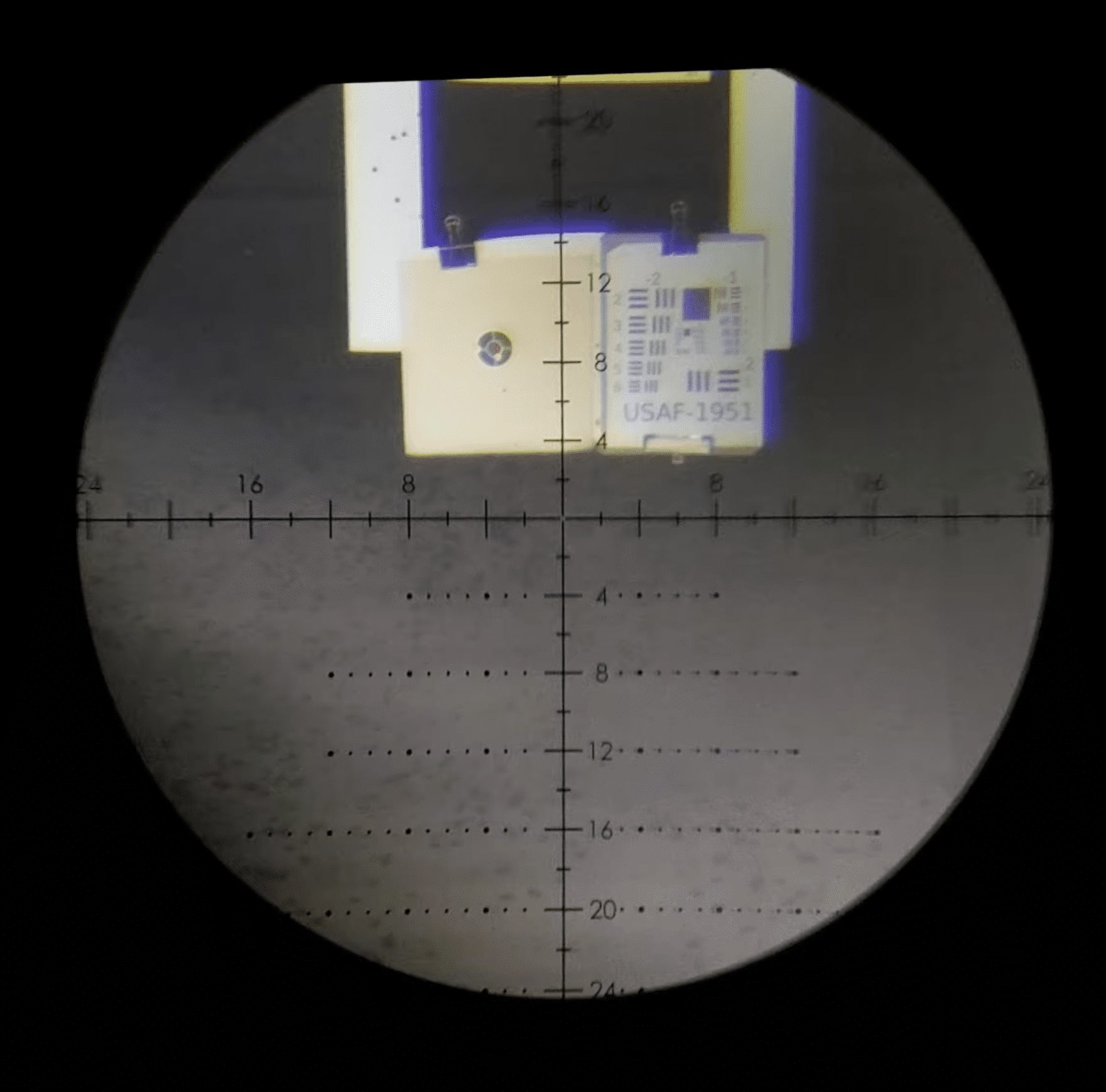 Parallax & Magnification 
A ribbed adjustment ring is located right in front of the eyepiece. It has white numbering so you can keep track of the adjustments, and I didn't have any trouble with it. You can zoom smoothly from 6x to 24x magnification, which allows you to shoot at shorter or longer ranges. This range of magnification provided me with versatility, from close-range varmint hunting to long-range target shooting competitions. However, during a recent close-quarters hunting scenario, the minimum 6x magnification felt slightly restrictive for rapid target acquisition.
The field of view is highly variable depending on your zoom level. At 6x magnification, you'll have a wide, 18-foot field of view at 100 yards' range. At 24x magnification, you'll have a much tighter 4.5-foot viewing window. This variability required some adjustment when switching between different types of shooting. While tracking fast-moving targets, this necessitated frequent adjustments in field of view, especially at higher magnifications.
A parallax dial is located to the left. This lets you adjust the parallax on the reticle, so it won't drift as you move your head from side to side. The dial works smoothly, and can be adjusted from 10 yards to infinity. The parallax adjustment was intuitive and effective, significantly improving accuracy at various distances. During a benchrest shooting session, the accurate parallax adjustment was essential for achieving tight groupings at long range.
Elevation & Windage Knobs
The elevation and windage knobs are responsive and easy to use. Both knobs are knurled for an easy grip, and click audibly when you adjust them. One click moves the reticle by ¼ MOA, which is more or less standard for modern MOA scopes. The tactile feedback from the clicks was reassuring, allowing for precise adjustments without having to look away from the target.
There's a 65-MOA window for elevation and windage. This gives you plenty of flexibility with regard to elevation adjustments. I was able to sight all the way out to 1,000 yards without needing an adjustable mounting ring. However, for extreme long-range shooting, some competitors might prefer a scope with a wider range of adjustment. For instance, during an extreme long-range shooting event, the 65-MOA range was just sufficient, but a bit more would have provided additional flexibility.
The elevation knob also has a zero reset. However, this brings up a minor issue I ran into. The numbers on the knobs don't line up exactly. When you reset to "zero," the dial will actually be slightly to one side. This discrepancy, though minor, required extra attention during the zeroing process. This was slightly cumbersome during a rapid transition between different shooting stages, where quick re-zeroing was necessary.
Like I said, this was a minor complaint. It doesn't affect the scope's ability to hold zero, and it's easy to get used to.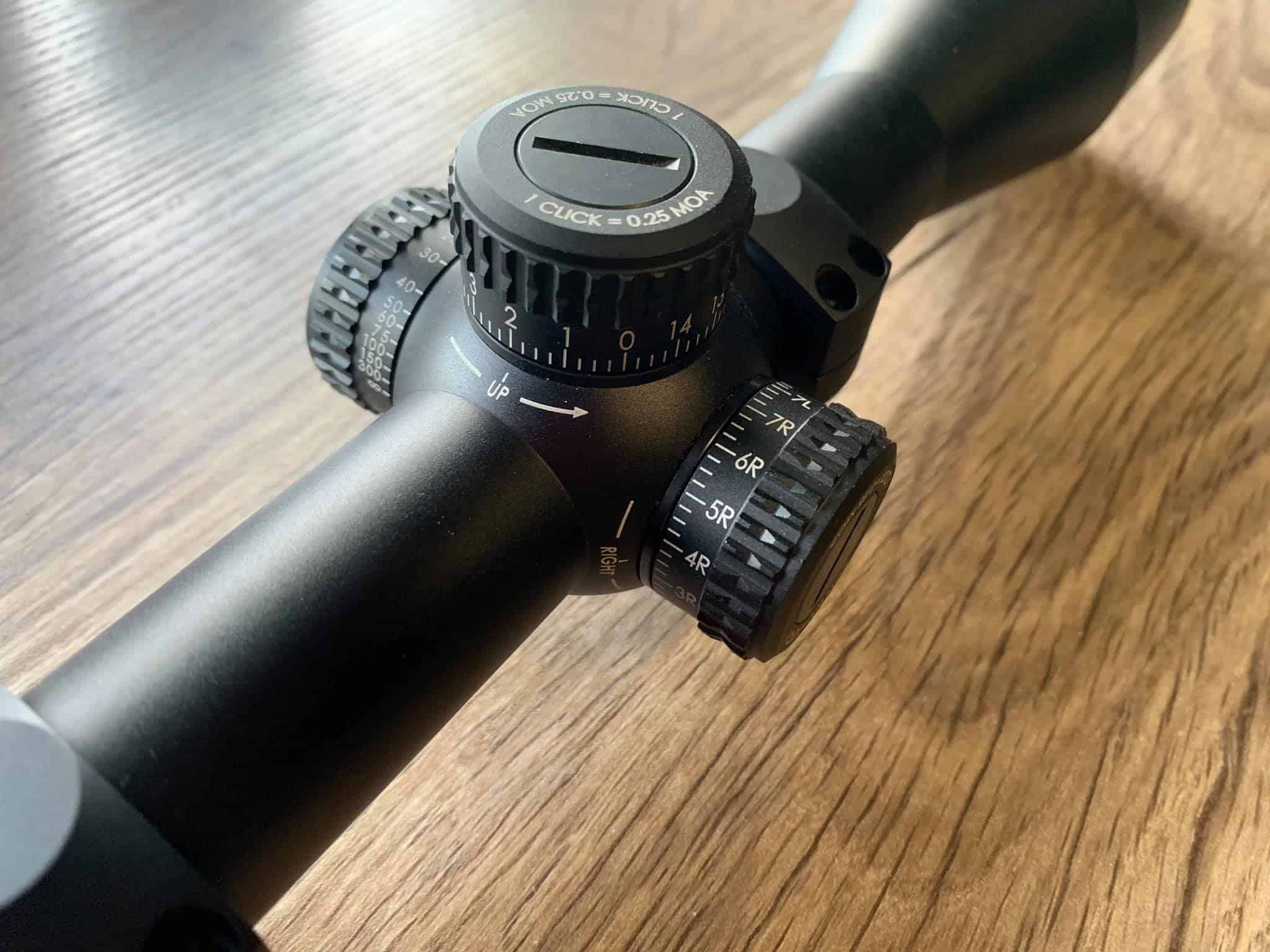 Eye Relief & Eye Box
The Diamondback has an eye relief of 3.9 inches. That's a comfortable distance for the .338 Lapua Magnum and most shooting positions. I wasn't positioned way down the stock, but I wasn't too close to the scope, either. The eye relief was consistent across the magnification range, which is not always the case with other scopes in this price bracket. This consistent eye relief was particularly useful during a high-recoil shooting session, as it provided a safe and comfortable viewing distance throughout.
It was in the Goldilocks zone – just right.
Durability
This scope is made from tough anodized aluminum, with O-ring seals around the lenses. The tube itself is nitrogen-purged, which flushes out any potential moisture and prevents fogging. In my experience, the scope held up well in various weather conditions, from rainy days to dusty environments, without any signs of internal fogging or dust penetration. During a hunting trip in a particularly humid region, the nitrogen-purging proved its worth by keeping the lenses clear despite drastic temperature changes.
Vortex backs this with a robust manufacturer's warranty. The warranty even transfers if you sell your scope – no paperwork required.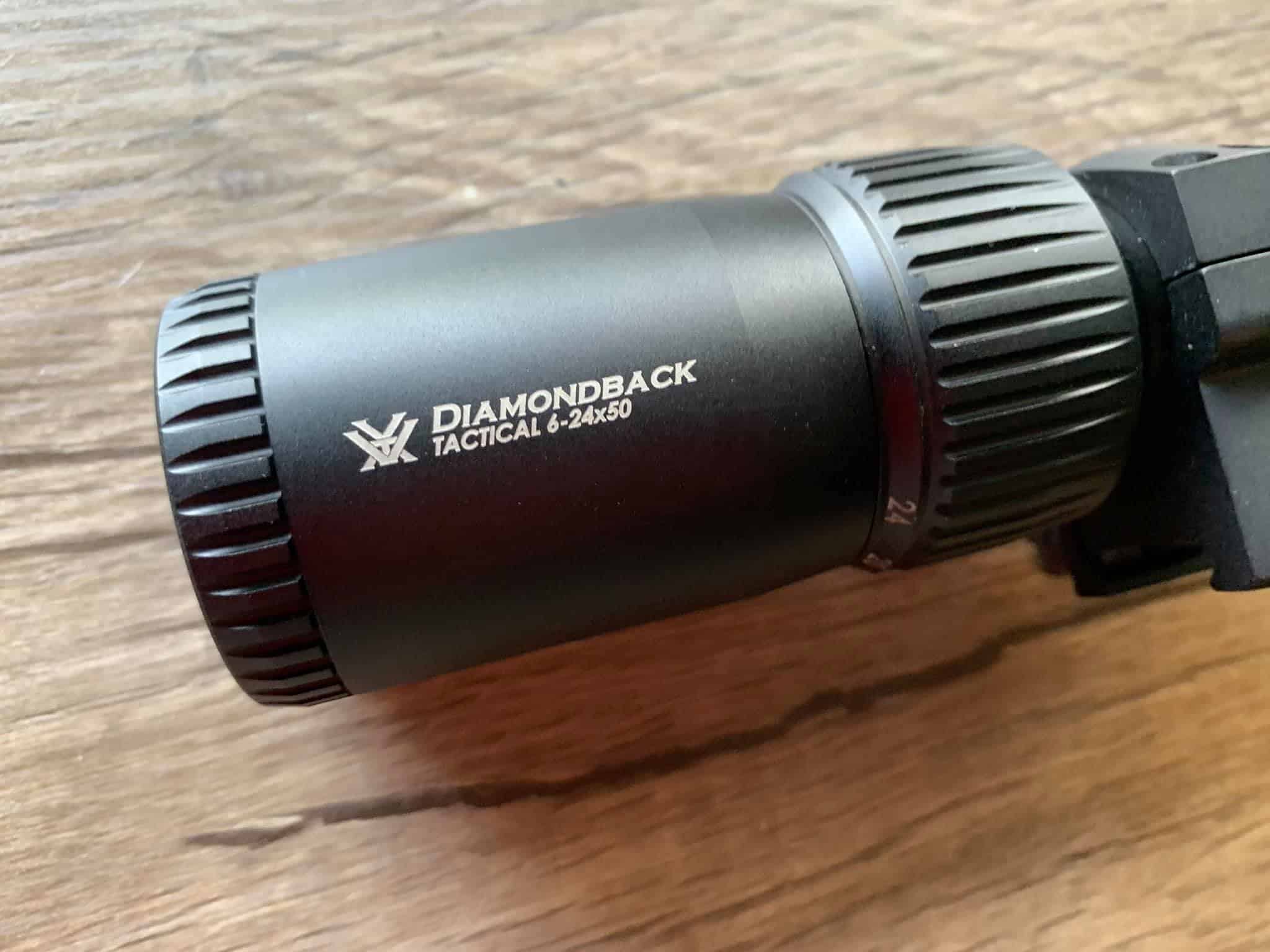 Is the Vortex Optics Diamondback 6-24×50 worth it?
For its price range, this is the best long range scope for .338 Lapua. The Diamondback is a legitimate 1,000-yard scope, with a reticle that's detailed enough for even the most finicky of target shooters. The 50mm objective lens lets in plenty of light, even at maximum magnifications. However, for shooters who frequently engage in close-quarters hunting, the minimum 6x magnification might be limiting.
At the same time, it's also a solid choice for hunting. The reticle holds zero very well, even when the scope gets bumped around. And the 6x magnification is useful for shorter-range shots where you want a wider field of view. It would also be one of the best Vortex scopes for 6.5 Creedmoor.
Pros:
Durable design that holds zero well

Easy windage and elevation adjustments

Accurate at any range

Good value
Cons:
Awkward return-to-zero function

Reticle design is confusing for beginners
2. Trijicon TR23 AccuPoint 5-25×50 Mil-dot Crosshair – Best Trijicon for .338 Lapua Rifles
The Trijicon TR23 AccuPoint Mil-dot crosshair is a bit pricier. However, it comes with an awesome tritium phosphor reticle that's purpose-built for low-light shooting.
The weight of 26.9 ounces is par for the course with a scope this size. It measures 13.5 inches long, with a 50mm objective lens and a standard 30mm tube. All in all, despite its slightly heavier weight compared to some lighter scopes like the Leupold VX-3i, I found the TR23 balanced well on my rifle, particularly during extended hunting trips.

Glass Clarity & Reticle
The TR23's glass is fully multi-coated with a special broadband treatment. This ensures that all colors come through equally, and there's no tinted cast to the image. This clarity was particularly noticeable when I compared it with some older models I've used, where color distortion was more apparent.
The scope is clear and bright, and it's easy to track a moving target. The anti-reflective glass does a great job of preventing glare, and there's a sunshade included just in case. In my experience, the glare reduction was significantly better than scopes without this feature, especially during hours when the sun was at a low angle. On a bright, snowy day, the anti-glare properties of the glass proved invaluable, allowing me to maintain clear visibility without squinting or struggling with reflections.
The crosshairs have a unique, modern design, and this design is the main reason I liked the TR23. They're narrow, with big black dots so you can adjust for droppage and windage. This contrasted with the finer lines of some other scopes, like the now discontinued Nikon Monarch, making it easier to see against varied backgrounds.
The dot in the center is lit by fiber optic and tritium phosphor technology. The fiber optic is powered by a green bar on top of the eyepiece that makes for a unique visual feature. During the daylight, it keeps the dot nice and bright. In low-light conditions, the tritium phosphor enough is sufficient for good visibility. I found this dual illumination system more reliable than scopes relying solely on battery-powered illumination, which can fail at inopportune times. This feature was particularly beneficial during a twilight varmint hunt, where the enhanced visibility of the reticle allowed for quick and precise targeting in fading light.
I loved this dot, because it makes target acquisition a breeze. When you have only a few seconds to shoot an elk, even half a second can make the difference between a hit and a miss. During a recent dusk hunt, the illuminated reticle was a game-changer, allowing me to take a successful shot in conditions where my previous scope would have struggled. The Trijicon would also be one of the best scopes for .30-06.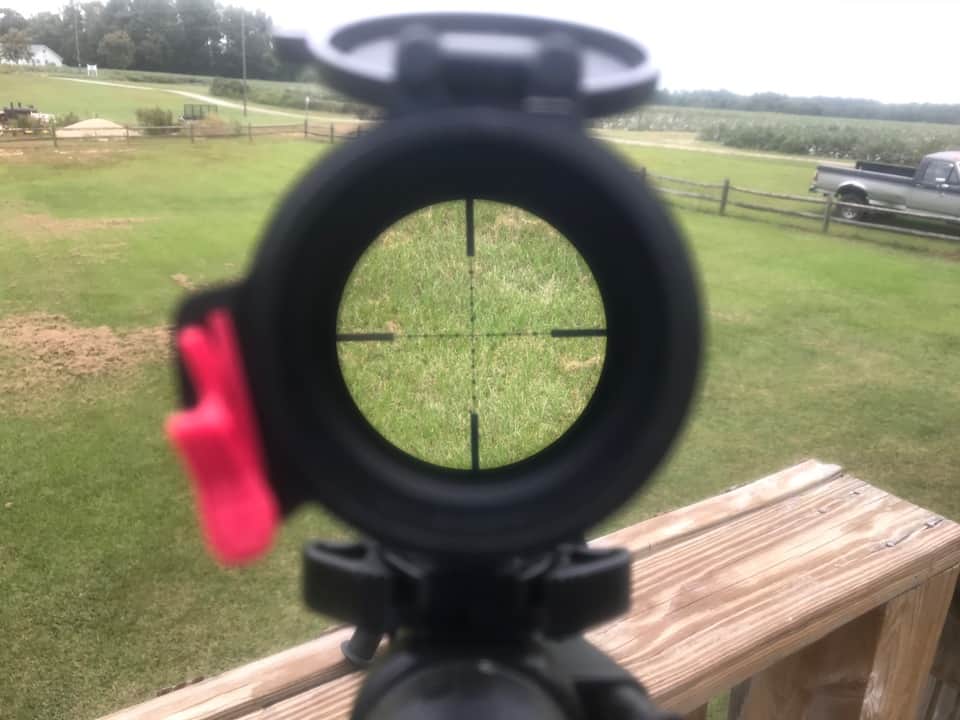 Parallax & Magnification 
The zoom ring is in front of the eyepiece, with tall ridges that allow for a secure grip. I was able to make fine adjustments, even with a thick set of gloves on. This ergonomic feature was a noticeable improvement over some scopes where adjusting magnification in cold weather is a challenge. You can zoom between 5x and 20x magnification, and there are white numbers that let you know your current zoom level.
The field of view is reasonably generous. At 100 yards, you'll have a 19.4-foot field of view at 5x magnification. Zoom in to 20x, and you'll have a 5.2-foot field of view. This range made it versatile for both open terrain and more confined forested areas. However, in a recent target shooting session, I noticed that at the highest magnification, the narrow field of view required more frequent adjustments to keep track of multiple targets.
The parallax dial is located on the left side of the housing. Unfortunately, it's marked with hashes, not numbers. This lack of numerical indicators made initial adjustments more time-consuming compared to scopes like the Vortex Viper, which has clearly marked settings. I eventually got the hang of it, but I had to fiddle around with the adjustments first.
Elevation & Windage Knobs
The elevation dial is located on the top, while the windage dial is positioned to the side. Both of them turn very smoothly, at ¼ MOA per click. The smoothness and precision of these dials were on par with high-end scopes, providing reliable and repeatable adjustments.
That said, the dials are both tall and highly exposed. I haven't had the opportunity to take this scope hunting, but I wouldn't want to. Those dials could get turned by mistake, and I could end up missing. This concern was highlighted during a recent hiking trip where the scope brushed against foliage, inadvertently adjusting the settings. On the range, this isn't a concern.
This scope has 40 MOA of total travel, both for the elevation and for the windage. While sufficient for most of my shooting needs, those looking to engage in extreme long-range shooting might find this range limiting. However, you'll need an angled mount to shoot beyond 800 yards without any holdover.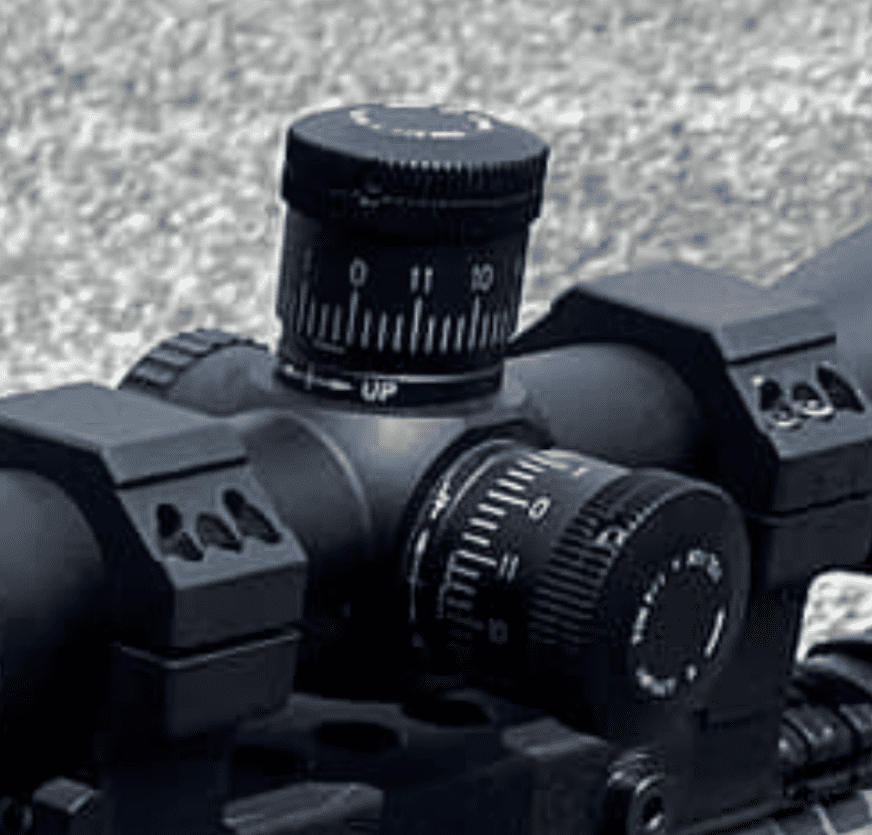 Eye Relief & Eye Box
The TR23's eye relief ranges from 3.8 inches to 4.1 inches, depending on how far you've zoomed in. This range provided a comfortable viewing distance, even when I used a .338 Lapua Magnum rifle, which helped in maintaining focus on the target. I had no issues acquiring my target in any position, especially not with the bright dot in the center of the reticle.
Durability
The tube is crafted from aircraft-grade aluminum, and won't get dinged up from a few bumps and bangs. I found its durability to be comparable to other high-end scopes like the Schmidt & Bender PMII, which are known for their rugged construction. It's also waterproof to 10 feet of depth, although I'd still recommend keeping your gun out of the water. During a rainy hunting trip, the scope proved its worth by functioning flawlessly despite being exposed to wet conditions and occasional knocks against tree branches.
The TR23 is covered by Trijicon's lifetime warranty, although you'll have to send in the warranty card to register. The exception to this is the tritium phosphate pip, which is guaranteed for 15 years.

Is the Trijicon TR23 worth it?
Without a doubt. While this scope is far from perfect, it also has a lot to offer. In particular, I loved the fiber optic/tritium phosphate reticle. This combination of technologies provides a distinct advantage in varying light conditions, something that's crucial for hunters and tactical shooters alike.
If you're primarily looking for a range scope, you might not care about this.
But the .338 Lapua is a big game round, and if you're hunting big game, fast target acquisition is critical. That's why the TR23 earned its place in my gun safe.
Pros:
Beautiful broadband coating on all lenses

Easy target acquisition

Wide field of view

Very durable
Cons:
Limited adjustment range

Exposed dials can easily get turned by mistake
3. Athlon Optics Argos BTR 6-24×50 GEN2 MOA reticle
The Athlon Optics Argos BTR GEN2 MOA reticle is a mid-priced scope that offers some features that most mid-priced scopes don't.
It has a 50mm objective lens, and measures 14.1 inches in length, with a 1.8-inch viewport. It tips the scales at 30.3 ounces, which is a bit heavy, but not excessively so considering the size. The 30mm tube will mount easily in a wide variety of ring mounts. Compared to lighter models like the Vortex Crossfire, its weight was noticeable during long hunting expeditions, but its robust construction made it feel more reliable in rough terrain.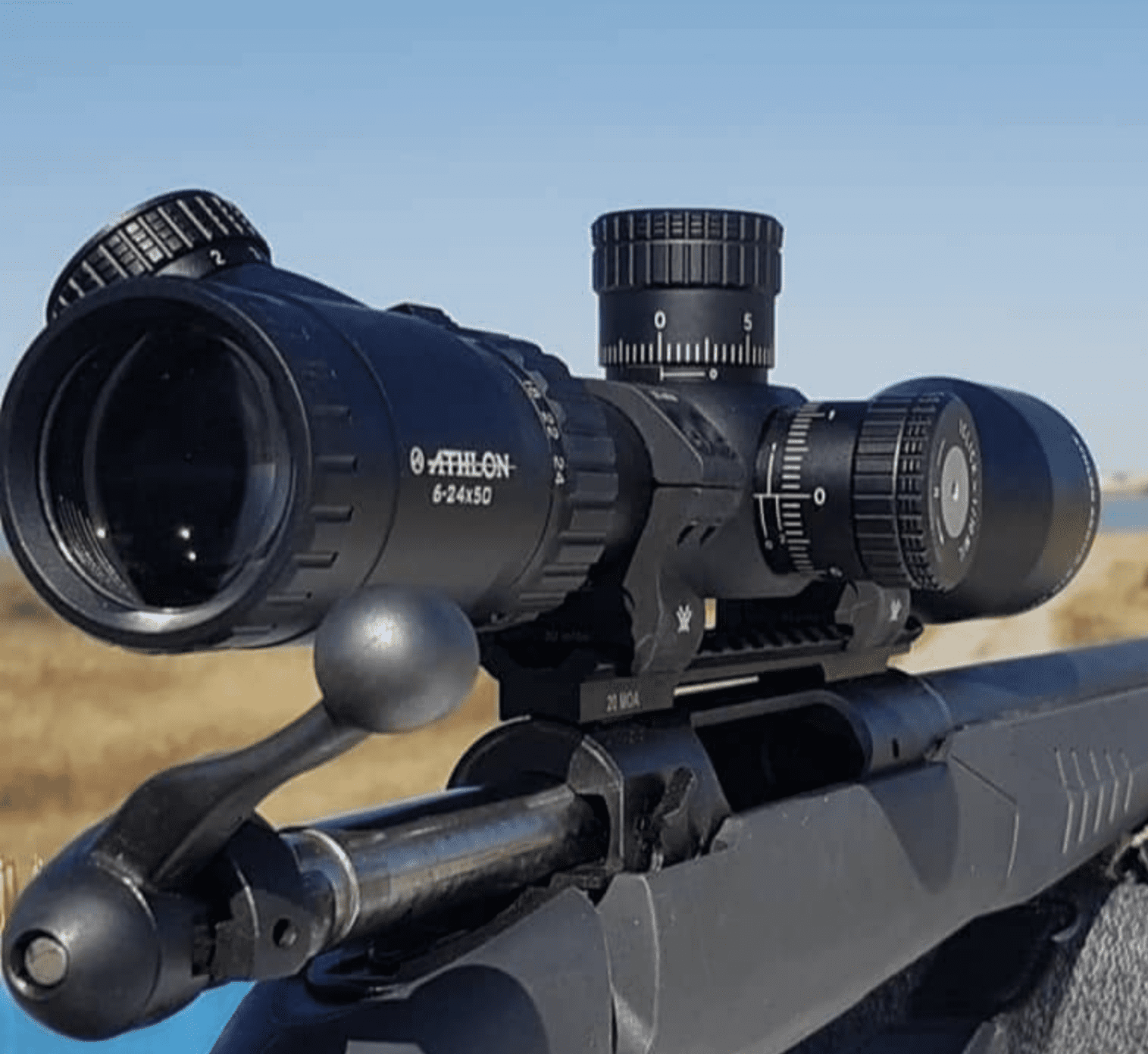 Glass Clarity & Reticle
The glass on the Argos BTR GEN2 are fully multi-coated, which reduces glare and increases brightness. For the most part, this works well, and I had no issues making out details at low to medium magnifications. However, when I compared it to higher-end scopes like the Leupold VX-5HD, the difference in brightness and clarity was evident, especially in low-light conditions. This became apparent during a dusk hunting session, where the Argos BTR GEN2 struggled slightly to match the brightness of the Leupold.
That said, the coating isn't perfect. There's a purple ring around the lens that obscures the edges, and the image looks a bit fuzzy at the highest magnifications. This chromatic aberration became more pronounced when viewing high-contrast targets, which could be distracting. In a recent long-range shooting competition, this effect was noticeable when aiming at targets against a bright sky, slightly affecting my accuracy.
The reticle consists of a thin red crosshair with multiple fine markings. There are tiny hashes at 1-MOA increments, with fatter hashes at the 5-MOA positions. They extend all the way out to 40 MOA, so you can make extreme adjustments on the fly. This level of detail was excellent for long-range precision shooting, but it took some time to get used to the busy reticle layout. For newer shooters, the intricate design of the reticle may initially be overwhelming, as noted during a training session with a novice shooter.
The reticle is displayed on the first focal plane, so it will zoom in and out along with your image. That way, your MOA readings will always be pinpoint-accurate. This feature was particularly useful for me during varmint hunting where ranges varied significantly, as it allowed me to make quick and accurate adjustments without needing to calculate or guess.
In addition, the center cross can be illuminated with a dial on top of the eyepiece. I didn't notice any difference in bright light, but it was a big help in low-light shooting. The illumination was subtle yet effective, enhancing visibility without overpowering the sight picture, which I found superior to some scopes where the illumination can be too bright or uneven. During a late evening hog hunt, the illuminated reticle proved invaluable, allowing me to maintain visibility of my target in the fading light.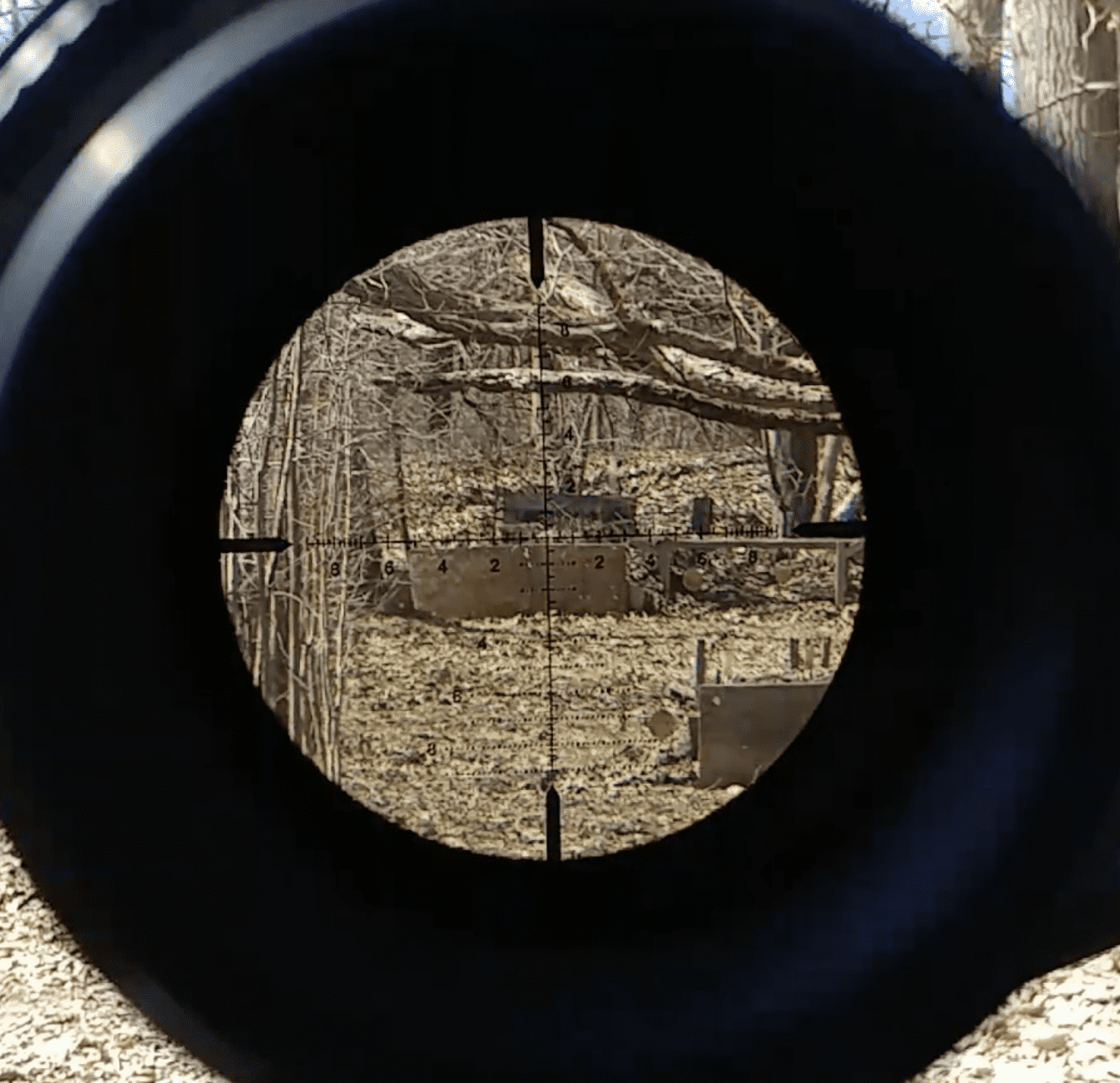 Parallax & Magnification
There's a grooved ring at the front of the eyepiece for adjusting the magnification. This ring is easy to rotate, and I was able to push on the flange with just my thumb. It has white numerals to let you know the zoom level, and can range between 6x and 24x magnification. The grip and ease of adjustment were commendable, especially in wet conditions or when wearing gloves, unlike some scopes where the adjustment ring can be too slick or stiff. I appreciated this feature during a rainy day shoot, where the ease of adjustment allowed for quick magnification changes without fumbling.
At 100 yards, you'll have a 16.7-foot field of view at 6x magnification. Zoom in to 24x, and that number falls to 4.5 feet. That's a bit tight for shooting at 100 yards, but the window will get proportionally wider at longer ranges. This limited field of view can be a drawback when tracking moving targets at closer ranges, requiring more frequent adjustments.
The parallax dial on the left side of the tube works well. You can adjust from 10 to infinity yards, and the crosshairs remain very stable. That said, the dial is a tad stiff, which can make it hard to select a precise setting. I found that while the stiffness ensured the setting didn't drift inadvertently, it did make rapid adjustments more challenging compared to scopes with a smoother parallax dial.
Elevation & Windage Knobs
The elevation dial is located on the top, and the windage dial is positioned to the side. Both are well-designed and responsive, with a crisp click for each movement. They move at a standard ¼ MOA per click. The tactile feedback was helpful in maintaining my focus on the target while making adjustments, a feature I appreciated especially during competitive shooting scenarios.
The zero reset function is very easy to use. All you have to do is zero your scope, then unscrew the top of the turret and rotate it back to zero. Tighten it back down, and you're good to go. This feature was particularly user-friendly and made recalibrating after changing ammunition types a straightforward process. It was a great advantage during a hunting trip where I switched between different loads, allowing for quick recalibration without tools.
I zeroed mine at 200 yards, then sighted in at 300 yards. I was able to switch back in just a couple seconds. The ability to quickly revert to a known zero was beneficial during hunting trips where shooting distances varied frequently.
Both dials have an adjustment window of 60 MOA. This means you have tons of flexibility for sighting in long or short. However, for extreme long-range shooting beyond 800 yards, this range can be somewhat limiting, requiring more holdover than some competitors with a wider range.
Eye Relief & Eye Box
The 3.3-inch eye relief is a little on the short side. For a high-recoil round like the .338 Lapua, I generally prefer something a little more forgiving. This shorter eye relief required more attention to consistent head positioning. Then again, it's great for shooting from a bench rest, or for shooting with your rifle shouldered in a deer stand.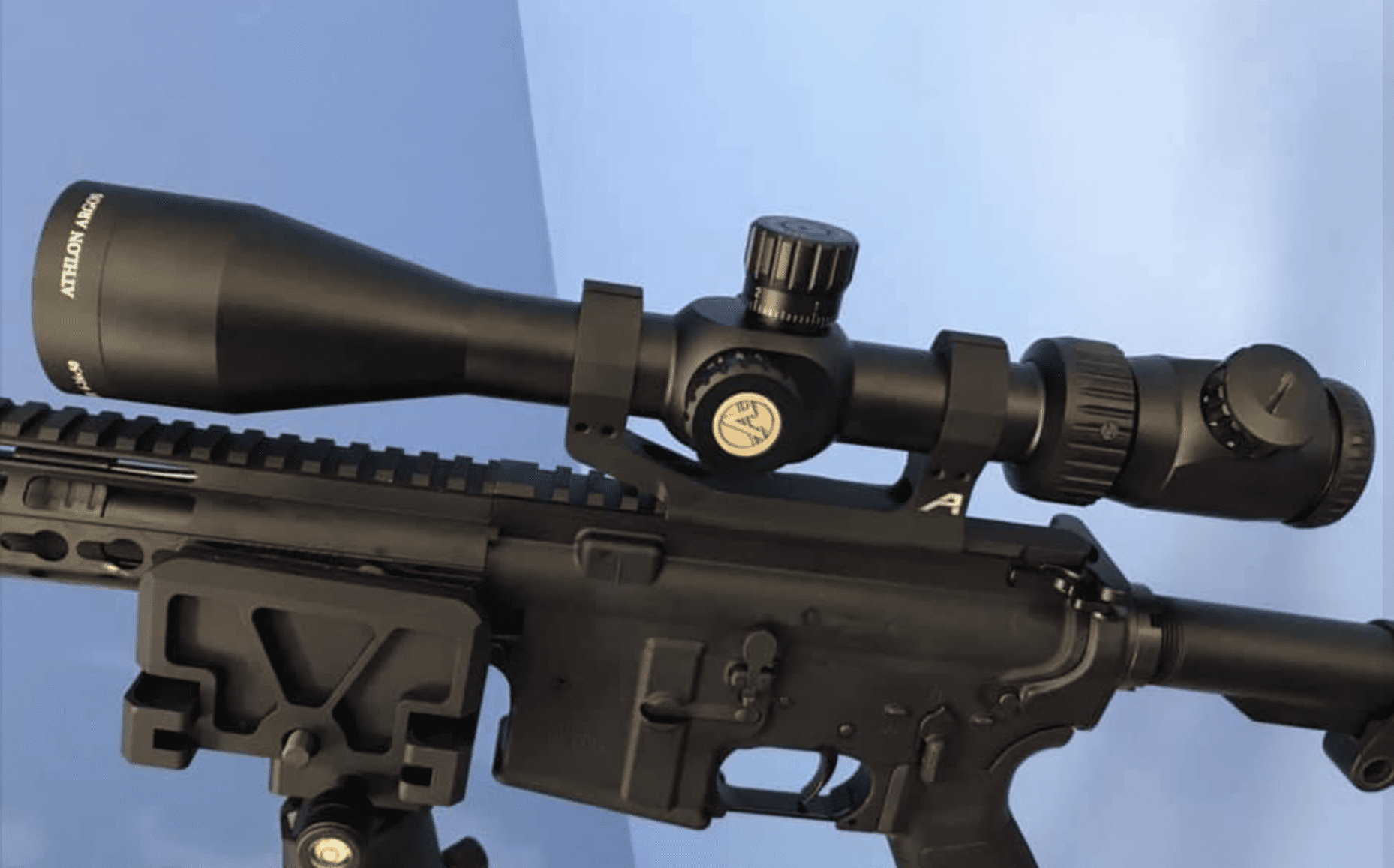 Durability
The Argos BTR GEN2 is made from aircraft-grade aluminum, so it can handle a lot of abuse. It's drop-resistant, water-resistant, and impact-resistant. Moreover, the lenses are coated with an anti-scratch finish that also repels dirt and oil. During my use, it survived several accidental knocks and exposure to rain without any noticeable impact on performance or appearance. This ruggedness was evident during a backcountry hunting trip, where it withstood being jostled and bumped against rocks and tree branches without any damage.
In addition, the tube is argon-purged, which makes it virtually condensation-proof. This feature was particularly effective in preventing internal fogging during rapid temperature changes, a common issue I've encountered with less robust scopes. I noticed this during a hunt that started in cool morning temperatures and warmed up significantly by midday; the scope remained clear throughout.
You also get a lifetime manufacturer's warranty. And like the Vortex warranty, this one is transferrable.
Is the Athlon Optics 6-24×50 worth it?
This is an amazing piece of glass, especially when you consider the price. While the lenses themselves aren't perfect, you're getting a very accurate, easy-to-adjust scope. You're also getting a very durable one. Given its price point, the Argos BTR GEN2 offers an excellent balance of performance, durability, and versatility, making it a strong competitor in its class.
I like the Argos BTR GEN2 for hunting in particular. Then again, it's also a great range scope, as long as you're not shooting at extreme distances. It is also one of the best scopes for .300 Win Mag.
Pros:
Easy-to-use reset-to-zero function

Effective parallax dial

First focal plane design

Durable design and lifetime warranty
Cons:
Narrow field of view

Short eye relief
4. Vortex Optics Viper PST Gen I 6-24×50 EBR-1 MOA
The Vortex Optics Viper PST is designed as a step up from the Diamondback. It's a touch heavier, at 23.4 ounces. But that's still pretty light for a 24x scope.
The Viper is also larger, at 15.5 inches long, with a 50mm objective lens. Like all of today's scopes, it has a 30mm tube, which goes to show you how popular that size is. This heft and size, while a bit more cumbersome than lighter models, contribute to its feeling of sturdiness and reliability, especially in rugged outdoor environments. During a recent hunting trip in a dense forest, the Viper's solid build gave me confidence despite the challenging conditions, proving that its heft was a small trade-off for its dependable performance.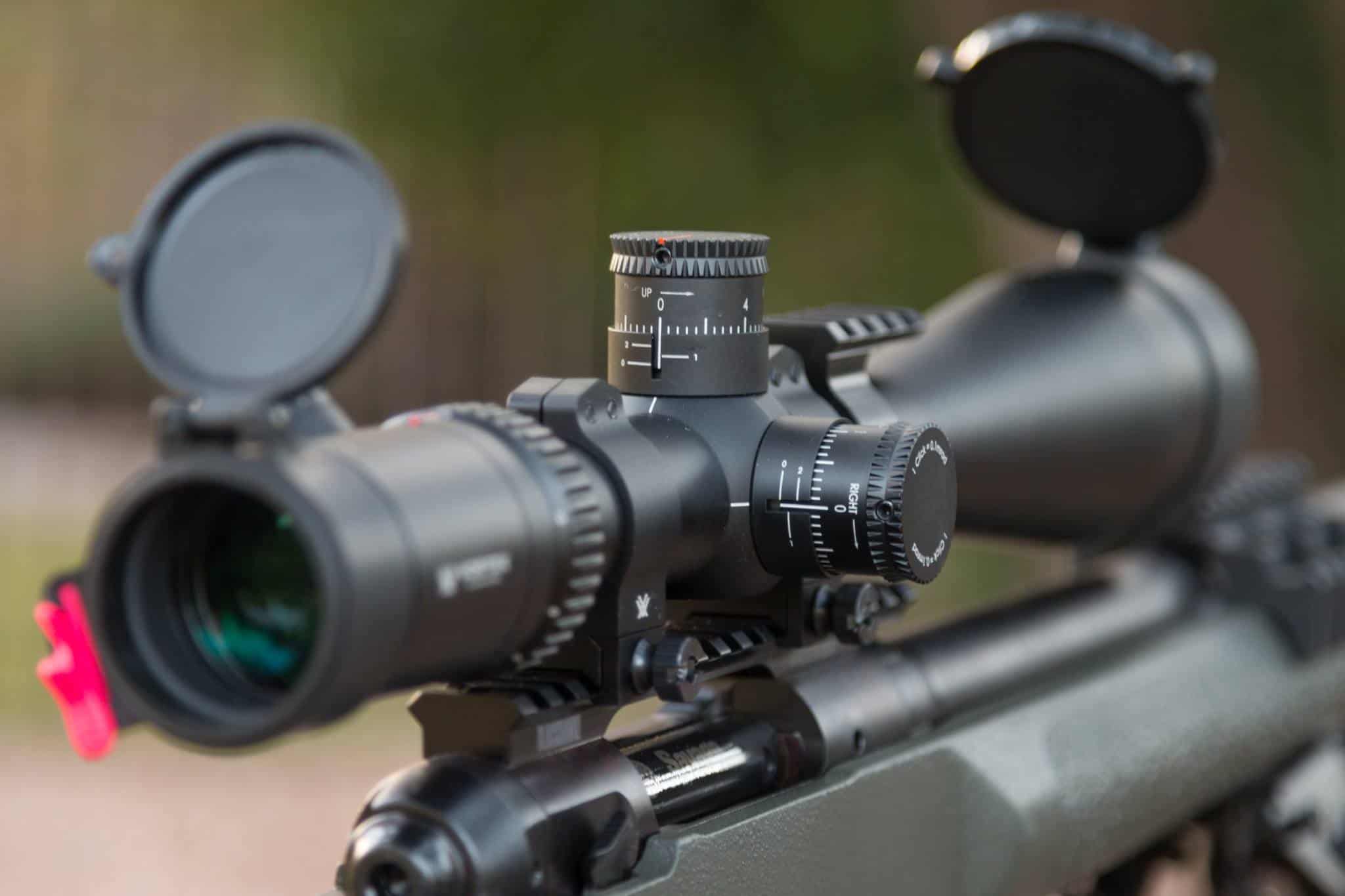 Glass Clarity & Reticle
The glass on this scope is pristine. It has very low dispersion, with anti-reflective and transmission-increasing coatings on all the lenses. It's so good I would call this scope one of the best long range sniper scopes. And if the coating isn't enough, there's also a sunshade to keep the glare away. Compared to the Diamondback, the Viper's superior lens coatings provided enhanced clarity, particularly noticeable in challenging lighting conditions like dusk or dawn.
When I looked through it, I thought I was looking through a high-quality analog camera lens. That's how clear it is. However, when I zoomed all the way in, it was harder to get the Viper in focus. I blame this more on the focus dial than the lenses themselves, since the image was still crisp once I got it focused. Adjusting the focus required more finesse than I expected, a small inconvenience compared to scopes with smoother focus mechanisms. In a recent target shooting competition, the fine-tuning needed for optimal focus at high magnifications was a bit time-consuming, but the clarity of the image once focused was unmatched.
The reticle has a unique design. The top part of the crosshair is narrow, while the bottom and sides are fat. However, both disappear towards the center, and are replaced by a finer red crosshair. This crosshair has tiny MOA markings, so you can adjust for droppage and windage. This hybrid design was useful for both precision long-range shooting and faster target acquisition, though it took some time to get used to the transition between the thick and thin parts of the crosshair.
This is a second focal plane scope, so the reticle remains the same size regardless of your magnification level. The MOA markings are accurate only at maximum magnification. This characteristic required me to be mindful of the magnification setting during complex shots, as it affects the accuracy of holdovers and windage adjustments. During a varmint hunting session, keeping track of the magnification setting was essential for accurate long-range shots, especially when switching frequently between various distances.
The red portion of the reticle can be illuminated. There's a knob on the top left part of the eyepiece where you can turn it on and off and adjust the brightness. It takes a single CR2032 battery, which is included in the kit. The illuminated reticle was particularly beneficial in low-light conditions, offering an advantage over non-illuminated reticles, especially in dense woods or at twilight.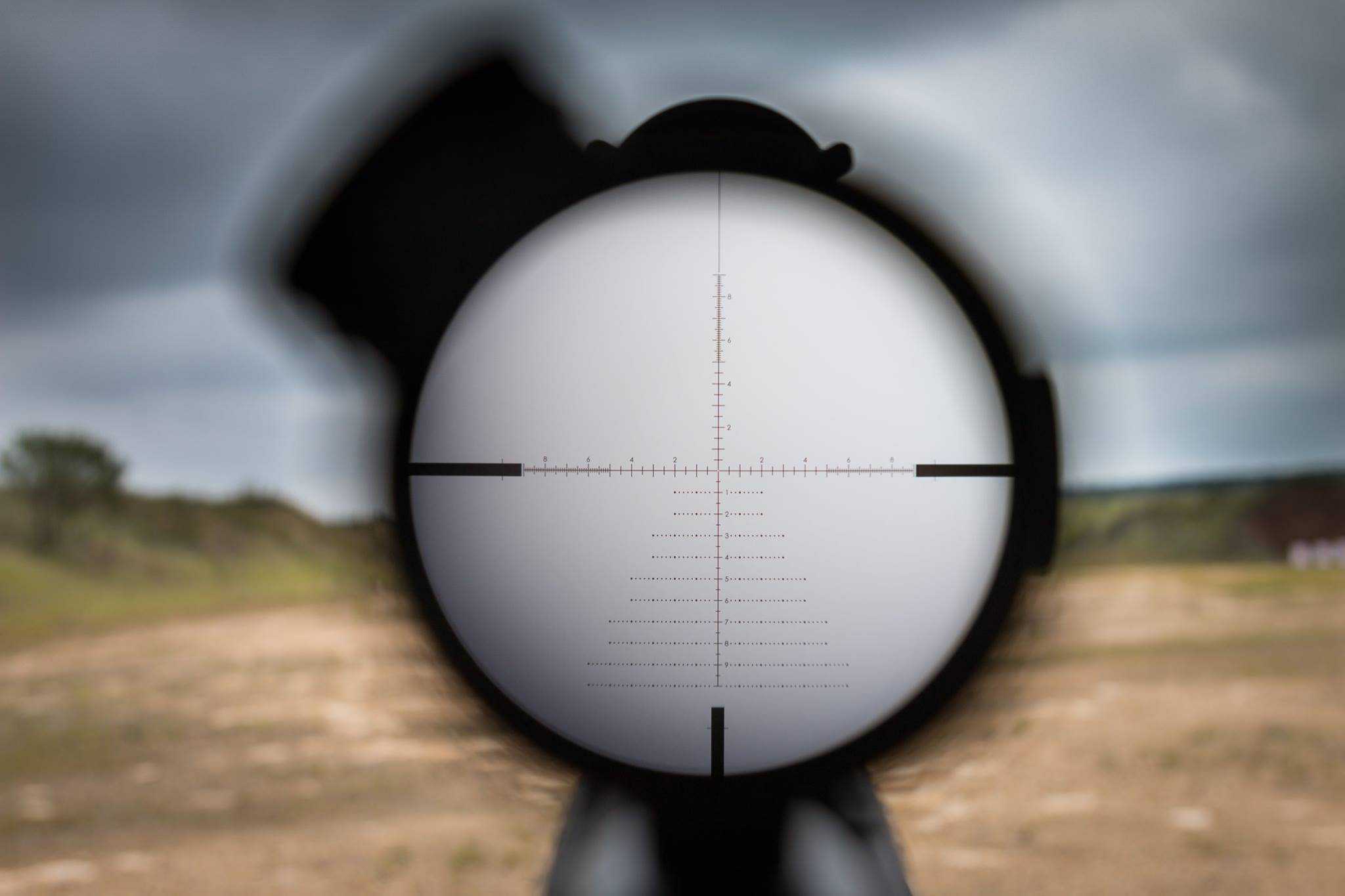 Parallax & Magnification 
The grooved ring in front of the eyepiece adjusts the magnification between 6x and 24x. It's easy to turn, and has numbering on it so you can keep an eye on the zoom level. The tactile feedback from the grooved ring made it easy to change magnification without looking, a useful feature during dynamic hunting situations. When stalking game, the ability to adjust magnification quickly and without taking my eyes off the target was a significant advantage.
The field of view is right in the middle of the pack. At 6x, you'll have a 17.8-foot viewing window at 100 yards' range. Zoom in to 24x, and the field of view shrinks to 5.1 feet. As always, this will be larger at longer ranges. While the field of view at higher magnifications was somewhat restrictive, it was sufficient for stationary targets; however, tracking moving targets required more effort. This limitation became apparent when trying to follow small, fast-moving targets such as rabbits at closer ranges, where the narrower field of view at high magnification necessitated frequent repositioning.
The parallax knob is located on the side of the tube, and can be set from 50 yards to infinity. It works very well at shorter ranges, but I had to mess around with it to get the right parallax at longer ranges. The numbers on the dial are incorrect. Adjusting for parallax at extended distances was a bit of a trial-and-error process, a slight drawback compared to scopes with more accurate parallax settings.
Elevation & Windage Knobs
The elevation and windage knobs both adjust your reticle at a rate of ¼ MOA per click. You get a wide, 60-MOA adjustment range, along with an easy-to-use zero reset on the elevation turret. This range was ample for most shooting scenarios I encountered, from short-range varmint hunting to long-range target practice. This flexibility was particularly useful during a field shooting competition, where I had to engage targets at various distances rapidly.
At the end of each turret is a grooved fiber optic stripe. It's easy to see, and I also had no trouble making minor adjustments by touch. This feature enhanced the usability of the scope, especially in situations where quick adjustments were necessary.
Eye Relief & Eye Box
I absolutely loved the eye relief on the Viper. At 4 inches, it's right in the sweet spot for shooting off-hand. At the same time, it's close enough that I can easily shoot with my rifle shouldered. This generous eye relief made the Viper versatile for various shooting styles and was particularly comfortable when using a .338 Lapua Magnum rifle. This feature was especially appreciated when shooting from unstable positions, as it allowed for more flexibility in head placement without sacrificing the sight picture.
Of course, the "perfect" eye relief depends on the shooter, the gun, and the shooting position. But for my money, this was spot on.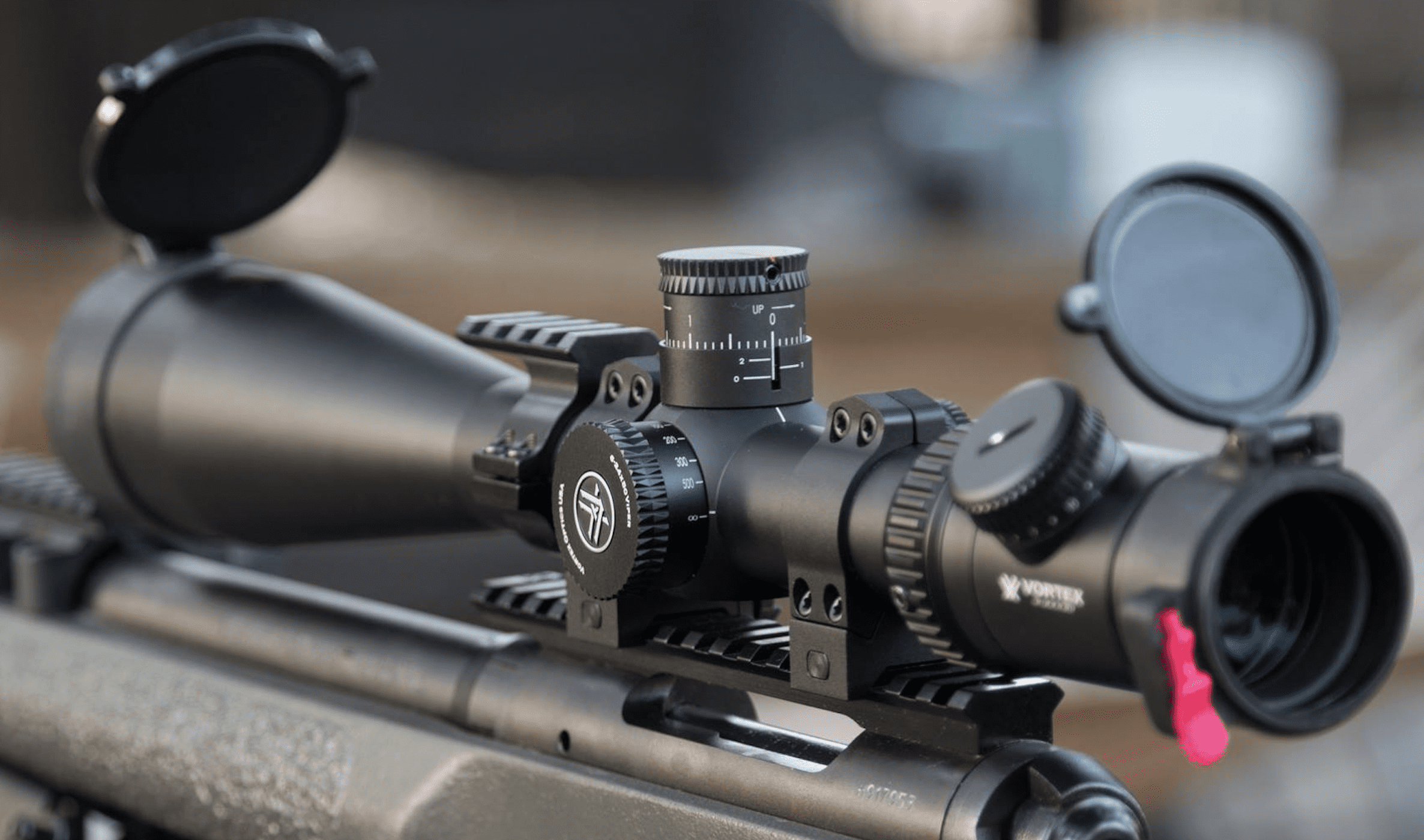 Durability
The lenses are coated with a solid, scratch-resistant coating. This coating also protects against oil and dirt, and cleaning the lenses was easy. During my use, the lenses remained pristine despite exposure to various environmental elements, confirming the effectiveness of the coating.
O-ring seals and argon purging protect against fogging. And you get Vortex' transferrable lifetime manufacturer's warranty. The argon purging effectively prevented internal fogging, a common issue in rapid temperature and humidity changes. On a cold morning hunt followed by a warm afternoon at the range, the scope remained clear throughout, a testament to its fog-proof design.
Is the Vortex Optics Viper PST 6-24×50 worth it?
This is a fantastic rifle scope, both on the range and in the field. It can take a beating, and the eye relief is perfect for shooting from different positions. Its robust construction and versatile features make it suitable for a wide range of shooting disciplines, from casual target shooting to serious hunting expeditions.
The illuminated reticle works well, and the rest of the crosshair is also well-designed. And other than the twitchy focus dial, I was impressed by the image quality.
Pros:
Crystal clear glass

Illuminated reticle for easy target acquisition

Plenty of eye relief

Transferrable lifetime warranty
Cons:
Finicky focus dial

Parallax dial is awkward at longer ranges
Wrapping Up
Any one of these scopes could be the best fit for you. Like I said, these are just my opinions. At the end of the day, you're going to have to make up your own mind.
Have you used one of these scopes? Do you already have a favorite scope for your .338 Lapua rifle? Hit me up in the comments and let me know!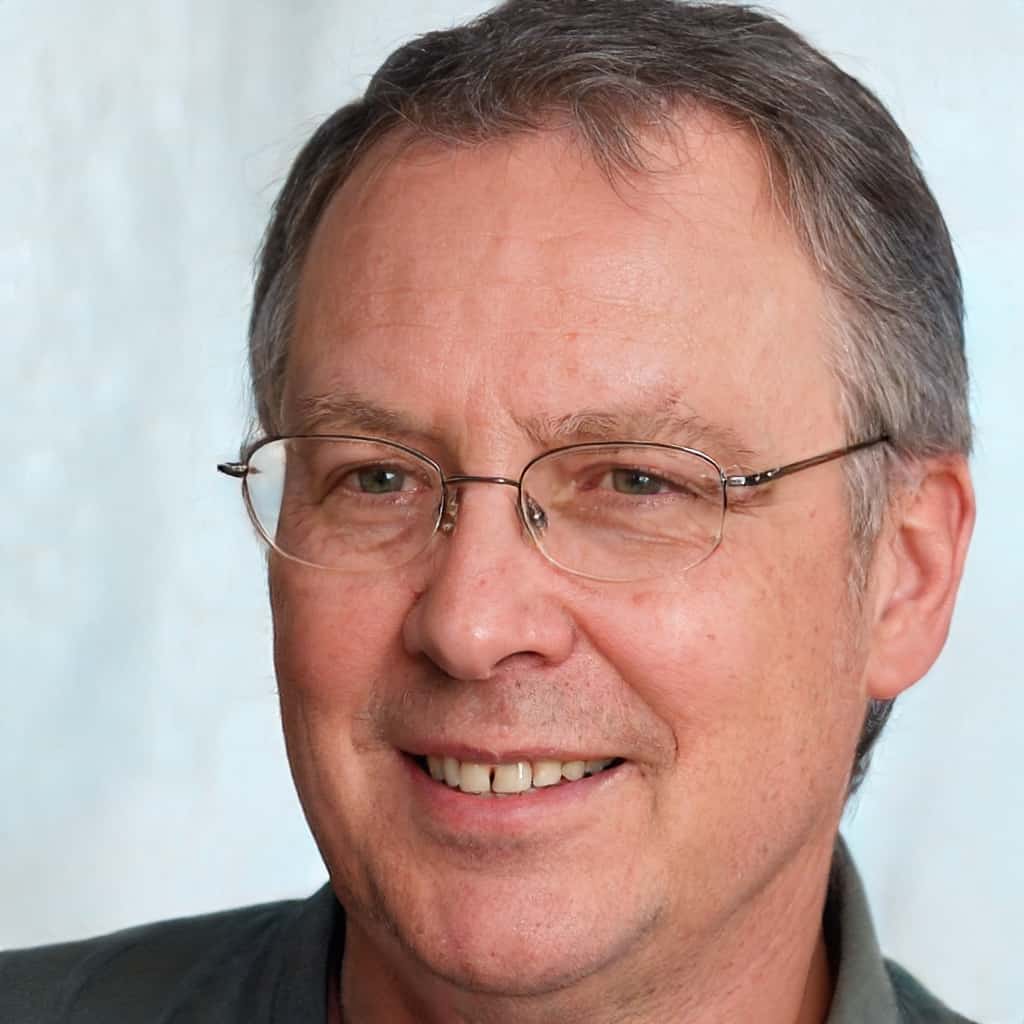 Jerry Miculek is an experienced firearms and optics expert.  Guns are not just a hobby for him, they are his passion and life. You can learn more about Jerry on our About us page.