The .300 Winchester Magnum – usually called the .300 Win Mag – is one of America's most popular hunting cartridges. It's powerful enough to kill an elk. And in the right rifle, it's a legitimate 1,000-yard cartridge.
But if you're going to shoot at that kind of range, you need some good quality optics.
I'm about to show you four great scopes, any one of which could be considered the best scope for .300 Win Mag. Let's get started!
Why Take My Word for it?
Why take anyone's word? The only way to be 100% sure you're getting the best scope is to try it for yourself. What works for me might not work for you, and vice-versa.
That said, there are a few features I was looking for. To begin with, if you want the best scope for .300 Win Mag, long range is crucial.
Sure, you can fire this cartridge at 100 yards or closer. But the .300 Win Mag really shines when you're shooting at 250 yards or further.
Beyond that, I looked for the basic features you want in any good scope. Glass clarity, ease of adjustment, and eye relief are all important features.
The 4 Best Scopes for .300 Win Mag
No time to read the reviews? Here are my top choices:
1. Athlon Optics Argos 6-24×50 BTR GEN2 MOA reticle
The Athlon Optics Argos BTR GEN2 MOA reticle is a big, beefy scope. It's 14.1 inches long, and 2.2 inches in diameter at the 50mm objective lens. The eyepiece is a bit smaller, at 1.8 inches.
At 30.3 ounces, you'll feel the weight, but that's to be expected on a big, long-range scope. Meanwhile, the 30mm tube is easy to mount with standard 30mm mounting rings.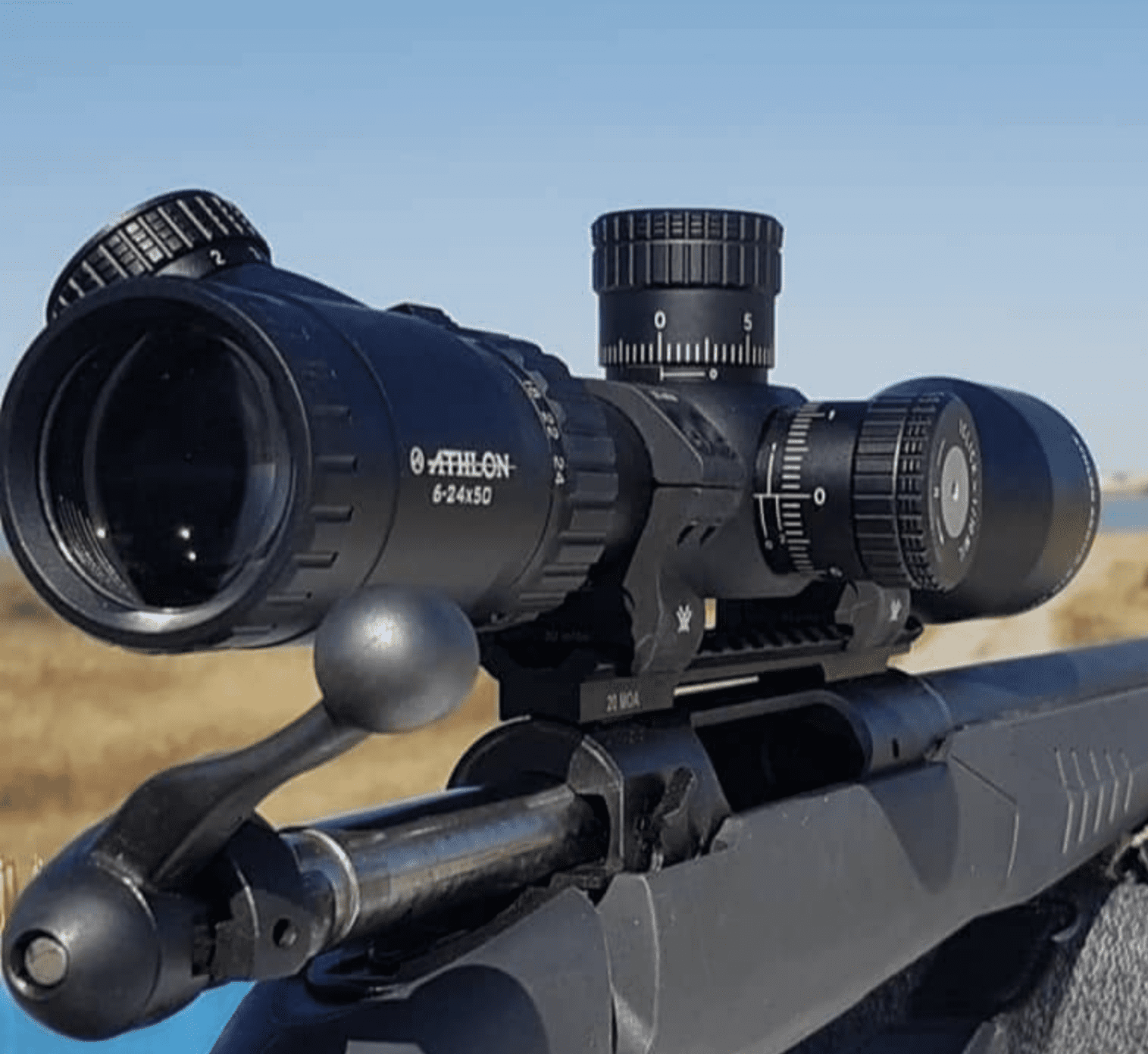 This scope is very reasonably priced, but still has features like an illuminated reticle and return-to-zero function that you'll normally only find on high-end scopes.
Glass Clarity & Reticle
The Argos BTR GEN2 has fully multi-coated lenses, which is designed to cut down on glare. It also does a good job of admitting light, and the image is reasonably bright.
I did notice some issues. The image is ever so slightly foggy at high illuminations. There's also a purple halo effect under some light conditions. But considering the price, I'd still rate the glass quality as good.
The reticle consists of a fine red crosshair, with tiny MOA hashes and larger hashes at the 5-MOA positions. At minimum zoom, you'll be able to see a vertical distance of 40 MOA.
Note that the lens has a first focal plane design. As you zoom in, you'll see a smaller and smaller section of the reticle. This lets you use the droppage lines at any zoom level.
The 2-MOA center cross is illuminated, with a control dial at the top left of the eyepiece. I like this for low-light shooting, since it makes target acquisition much easier.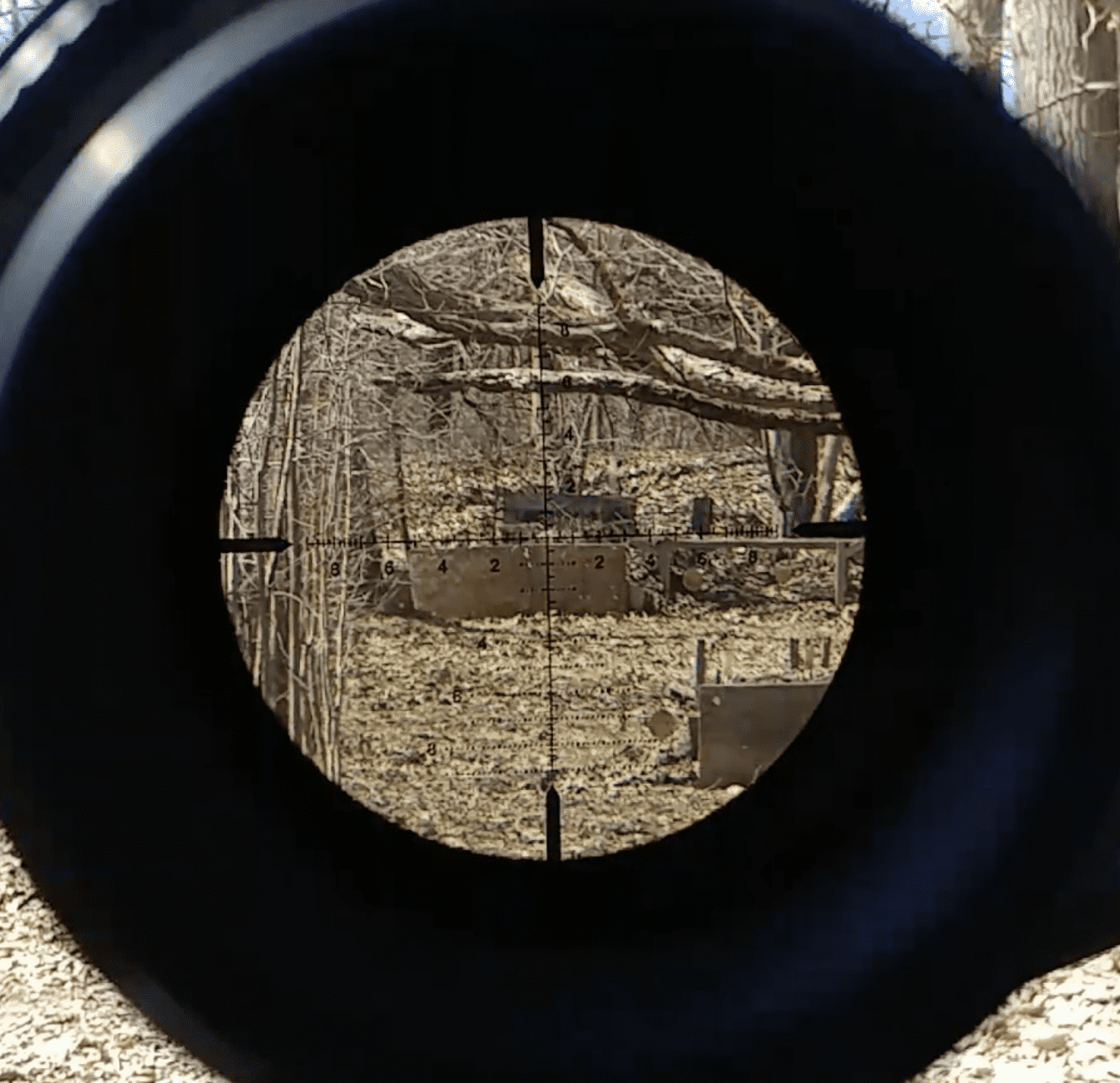 Parallax & Magnification
This scope has a ribbed adjustment ring in front of the eyepiece, with a large flange that allows you to adjust the magnification with just your thumb.
In total, you can zoom from 6x magnification to 24x. The ring is marked with white numerals at 2x intervals.
The Argos BTR GEN2 has a relatively narrow field of view. At 100 yards, your image will be 16.7 inches wide at minimum magnification, or 4.5 feet at 24x. Then again, you probably won't be using 24x zoom at 100 yards. At 400 yards, the field of view will be 18 feet, even at full zoom.
Parallax is adjustable from 10 to infinity yards, and the control knob is on the left side of the scope. It works well, but the knob feels a bit stiff.
Elevation & Windage Knobs
The top elevation dial and right-side windage dial both adjust your reticle by ¼-MOA per click. The controls are responsive, and the 60-MOA adjustment range is great for long-range shooting.
Speaking of long ranges, this scope has a return to zero location. Let's say you have your scope zeroed in at 200 yards. You may want to adjust for longer shots, but quickly return to 200 yards.
The return to zero function lets you adjust the elevation turret so "0" is at your zero position. So if you want to go to a longer range, you just adjust by the appropriate number of MOA. To return to 200 yards, you just twist the dial back to zero. For long-range shooting, you can also read my best optics for .338 Lapua Magnum guide.
Eye Relief & Eye Box
The Argos BTR GEN2 has 3.3 inches of eye relief. I would have liked to see a bit more, especially to take advantage of the illuminated reticle and quick target acquisition. Still, it's not a Walmart scope; you're not going to whack yourself in the eye.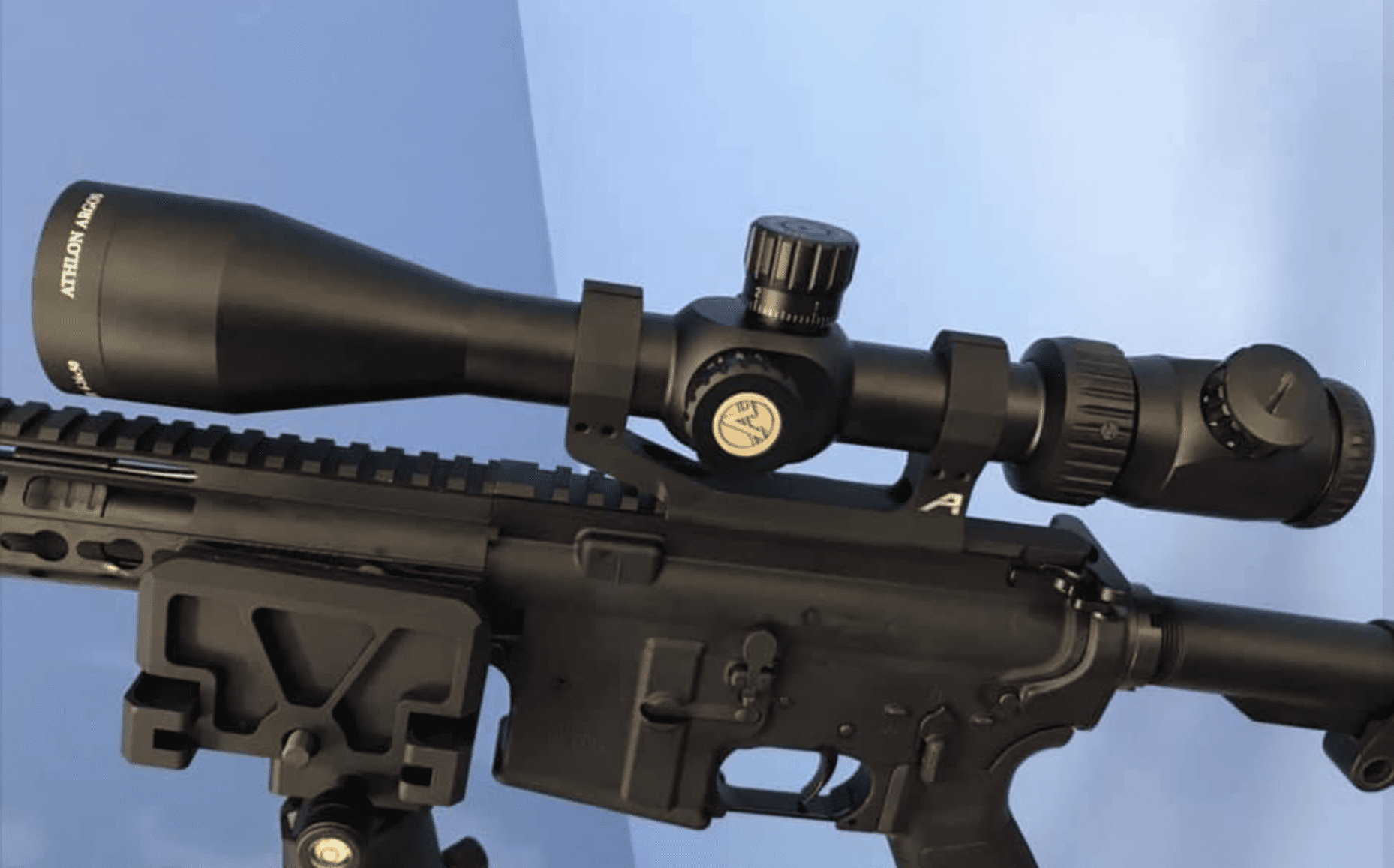 Durability
The tube is crafted from aircraft-grade aluminum, which is corrosion-resistant and handles abuse well. Moreover, the lenses are coated with a dirt, oil, and scratch-resistant finish. I put my thumb on the objective lens, and the cleaning cloth took the print right off.
The tube is also argon-purged to remove any moisture. This means you don't have to worry about condensation after rapid temperature changes.
Is the Athlon Optics Argos BTR GEN2 worth it?
Absolutely! As you'll see in a second, the other scopes on my list outperform it in a couple of ways.
That said, the Argos BTR GEN2 is a fantastic value. It's durable, accurate, and powerful, and all at an affordable price.
Pros
Illuminated reticle
Very accurate
Durable and Argon-purged
Fantastic value
Cons
Some clarity issues
Short eye relief
2. Vortex Optics Viper HS-T 6-24×50 MOA reticle
The Vortex Optics Viper HS-T 6-24×50  is a little bit longer, at 15.5 inches. It has a similar wide, 50mm objective lens, but it's noticeably lighter. At just 22.6 ounces, it's the second-lightest scope on my list.
This scope has a standard 30mm tube, which makes it easy to mount with many types of mounting rings.

Glass Clarity & Reticle
This is one of the most beautiful scopes I've ever looked down. Even well beyond 500 yards, objects are crisp and the colors are clear. I'm not saying you'll be able to see a bullet hole on paper at that range. But I had no trouble identifying my target and putting my crosshairs on the bullseye.
The lenses are fully multi-coated, and there was no glare. The scope even comes with a sunshade just in case.
The reticle has a fat crosshair at the outsides, which narrows to a slender crosshair near the center. In this narrower zone, there are black hashmarks to indicate elevation and windage.
This is a second focal plane scope, which means the reticle remains the same size regardless of your magnification level. The MOA marks are accurate at 18x.
Parallax & Magnification
The Viper HS-T provides anywhere from 6x to 24x magnification. Control is easy, with a ribbed control ring, white numerals, and a red LED ring that lets you precisely line up the ring.
Considering the second focal plane's design, I would have liked to see an indicator at 18x. Instead, it goes from 16x straight to 24x, so I had to play with the zoom level a bit while zeroing the scope.
The field of view is about what I'd anticipated. You can see a 5.1 inch window at full zoom at 100 yards, or a 17.8-foot window at minimum zoom.
There's a parallax adjustment dial on the left, which goes from 50 yards to infinity. It works well and the markings are dead accurate. That said, the dial seems to wander after shooting a full box of .300 Win Mag.
Elevation & Windage Knobs
The elevation dial is located on top of the scope's tube, and the windage dial is on the right. They're easy to operate, with an audible, tactile click. I wasn't left wondering how far I'd adjusted the dial, because it was so easy to keep track.
Each click will move the reticle by ¼ MOA, and the 65-MOA adjustment window is reasonably generous.
There's a return to zero function with a set of bronze shims. These can be used to lock the dial to your chosen elevation, and move it over to zero. From there, you can quickly change your elevation and return to zero.
Eye Relief & Eye Box
The VIPER HS-T offers 4 inches of eye relief, which is great when you're firing off-hand. I loved the wide eye box, and had no issues lining up a shot in any shooting position.
Keep in mind that the eye box will inevitably be narrower when you zoom in. At 24x, you'll still need to be reasonably close to dead-center.
You might be interested in my .270 Winchester scope recommendations as well.
Durability
This scope is manufactured from a solid block of aluminum. It's not stamped or bent into shape. This makes it very durable. You'd be hard-pressed to put a scratch in the finish, much less do any real damage.
The tube is sealed with O-rings at both ends to prevent air transfer. The inside has been Argon-purged to flush out any moisture, creating a fog-proof design.
Vortex scopes come with a lifetime warranty that transfers to the next owner.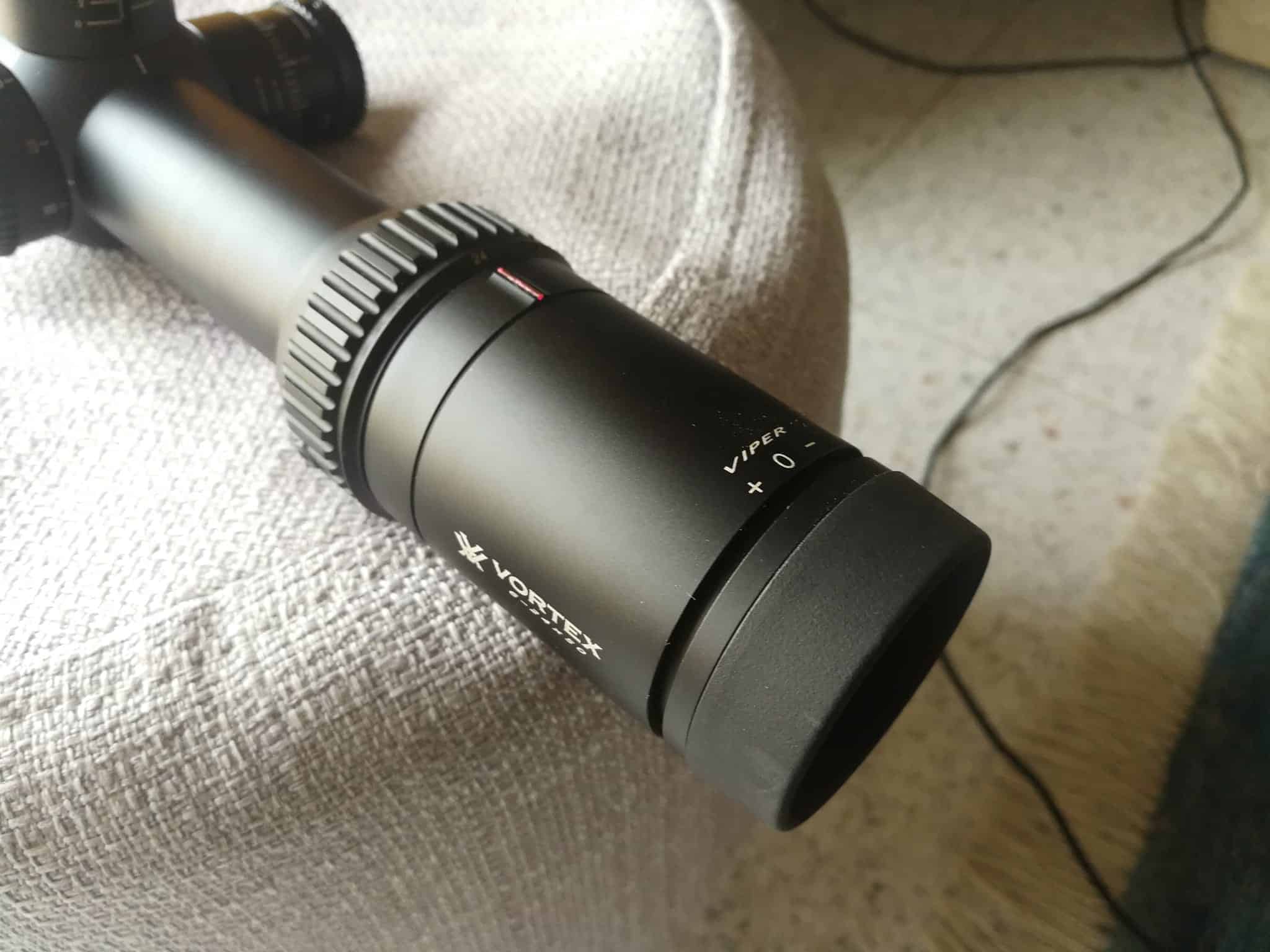 Is the Vortex Optics Viper HS-T worth it?
Yes. This is a mid-priced scope, and you're getting plenty of value. To begin with, the glass is totally pristine. You can spend four times as much on a scope and still not exceed this level of clarity.
I also appreciated the wide eye box and long eye relief. Short eye relief is fine for bench rest shooting or shooting with a bipod. But if you want to shoot while standing, you need a scope that's more forgiving.
I own plenty of scopes that I love on the range but would never take hunting. The Viper HS-T is great for both applications, and it's lightweight to boot – perfect for carrying through the woods.
Pros
Lightweight and accurate
Crystal-clear glass
Wide eye box and long eye relief
Great for hunting and target shooting alike
Cons
Complex return-to-zero function
Parallax adjustment dial tends to drift
3. Leupold VX-5HD 3-15×44 Illuminated Firedot Duplex CDS
The Leupold VX-5HD Illuminated Firedot Duplex CDS is even lighter than the Viper. It weighs only 19.2 ounces, so you'll barely notice you're carrying it. It's also fairly compact, measuring just 13.53 inches long with a 40mm objective lens.
This scope is a bit pricier, but it's also noticeably better quality. It has a 30mm tube just like the last two, so mounting is quick and painless.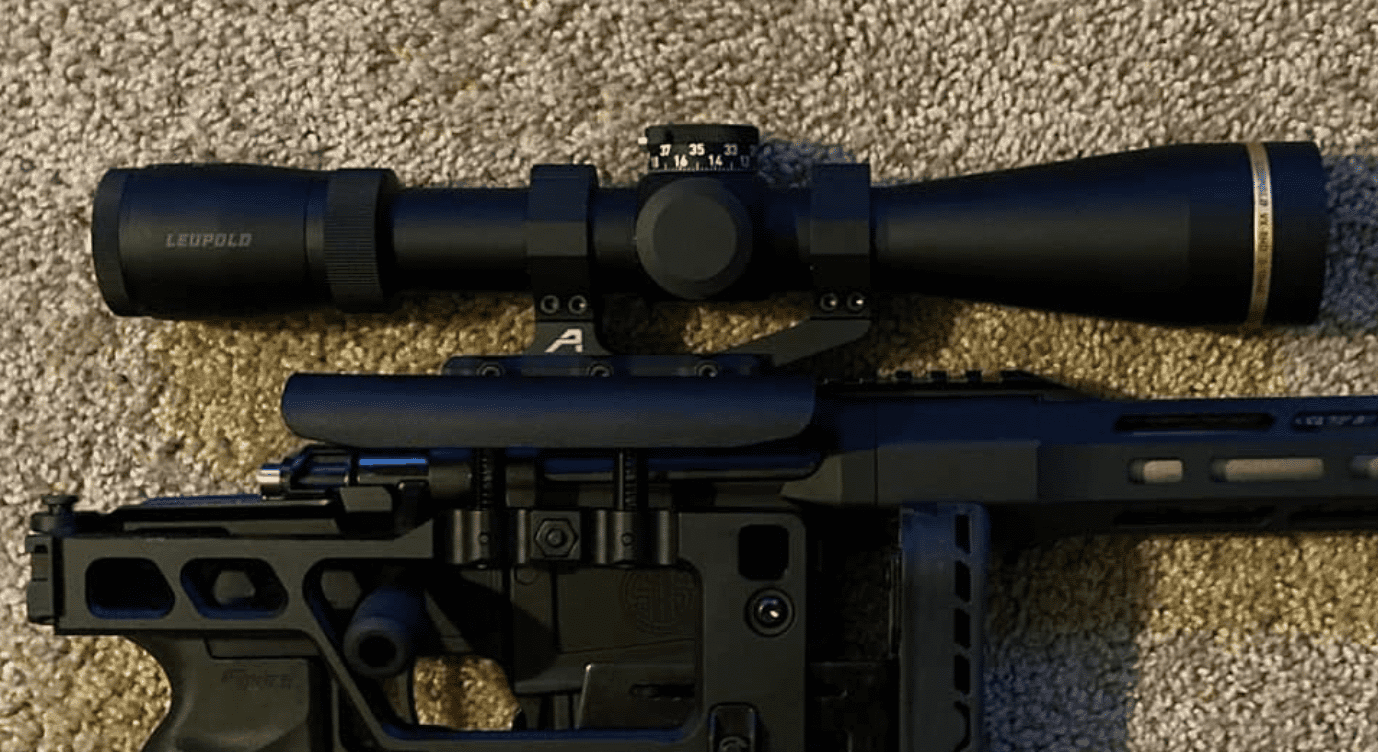 Glass Clarity & Reticle
The VX-5HD uses a specialized "Twilight Max HD" lens coating. I'm not sure if that's an actual trademark or just something their marketing department came up with, but one thing's for sure; it works.
The low-light performance is phenomenal. I was able to shoot in dim conditions where I wouldn't trust an ordinary scope. At the same time, the glare reduction remains excellent, and you'll get crystal clarity across the entire surface of the lens.
The crosshairs are wide towards the outsides, but taper to a narrower section in the center. There's a tiny red dot smack in the middle, which you can turn on for better target acquisition.
The illuminated reticle is a great touch, particularly under low-light conditions. It even has a built-in motion sensor, and will automatically shut off after 5 minutes of disuse. That said, the control button is a bit janky, and I had to mess with the battery cover tension to keep the light from cutting in and out.
Parallax & Magnification
This scope has a magnification range of 3x to 15x. It's controlled by a ring with fine hashes and a large flange for easy manipulation. There's a set of white numerals indicating the zoom level, and a white dot on the eyepiece so you know where they line up.
The field of view is nice and wide. At 3x magnification and a range of 100 yards, you'll see a 38.3-foot window. At full magnification, the viewing window is 7.7 inches.
Elevation & Windage Knobs
The windage and elevation knobs are located halfway down the tube. The windage dial is on the right side, and the elevation dial is located directly on top. Both adjust at ¼-MOA per click, and the elevation adjustment has a well-designed zero lock.
You don't have to mess with any shims or other tools to set up a return-to-zero. I was able to go from 200 to 300 yards and back again in just a few seconds. This is essential if you're hunting in an area where animals may appear at a variety of ranges.
The windage and elevation levels can be adjusted across a 75-degree window, which gives you tons of flexibility. Even if you plan on hitting a 1,000-yard range, you'll be able to make your adjustments.
Eye Relief & Eye Box
The eye relief ranges from 3.82 inches at maximum zoom to 3.7 inches at 3x magnification. I had no trouble obtaining a sight picture, regardless of shooting position. All in all, I was able to maintain a comfortable grip and cheek position without getting perilously close to the scope.
Durability
The VX-5HD is completely waterproof, shock-proof, and fog-proof. It also seems very durable. Leupold tests their scopes with 5,000 impacts on a machine that delivers 3 times the recoil of a .308 rifle.
I wasn't able to replicate that. But I banged it on the bench rest a few times after zeroing in and gave it another try. My grouping was still right over the bullseye.
Even if something does go wrong, you're protected. Leupold backs their scopes with a lifetime manufacturer's warranty.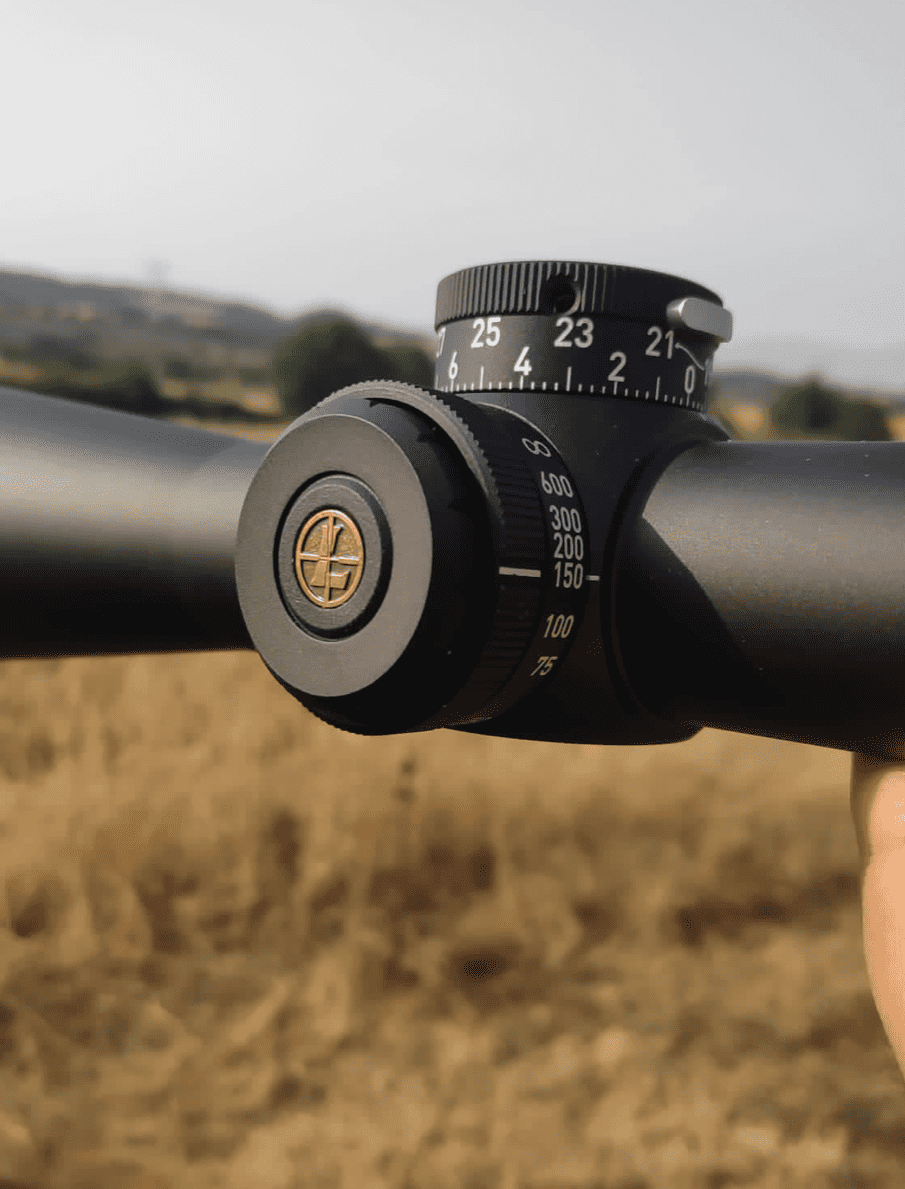 Is the Leupold VX-5HD worth it?
The Leupold VX-5HD is an excellent scope. The glass is clear, and the low-light performance is outstanding. I also loved the illuminated reticle, leaving aside minor gripes about the battery compartment.
The elevation and windage are easy to adjust, and the reticle stays on target even after the scope has taken some abuse. If you need a reliable 10x scope for your .300 Win Mag, it's tough to do any better. 
If you happen to have a .450 Bushmaster, read my best .450 Bushmaster scopes article.
Pros
Pristine glass
Illuminated reticle
Wide adjustment range and easy adjustment
Shock-proof
Cons
Poor battery compartment design
Eye relief could stand to be longer
4. NIGHTFORCE SHV 5-20×56 Non-illuminated Moar reticle
The NIGHTFORCE SHV Non-illuminated Moar reticle measures 15.2 inches in length, with a massive 56mm objective lens. At this size, you'd expect it to be a bit heavy, and it is. It weighs 30.5 ounces, or just a hair under 2 pounds.
This is the priciest scope on my list, but you get what you pay for. It has a 30mm tube, so it will work with most of today's scope mounting rings.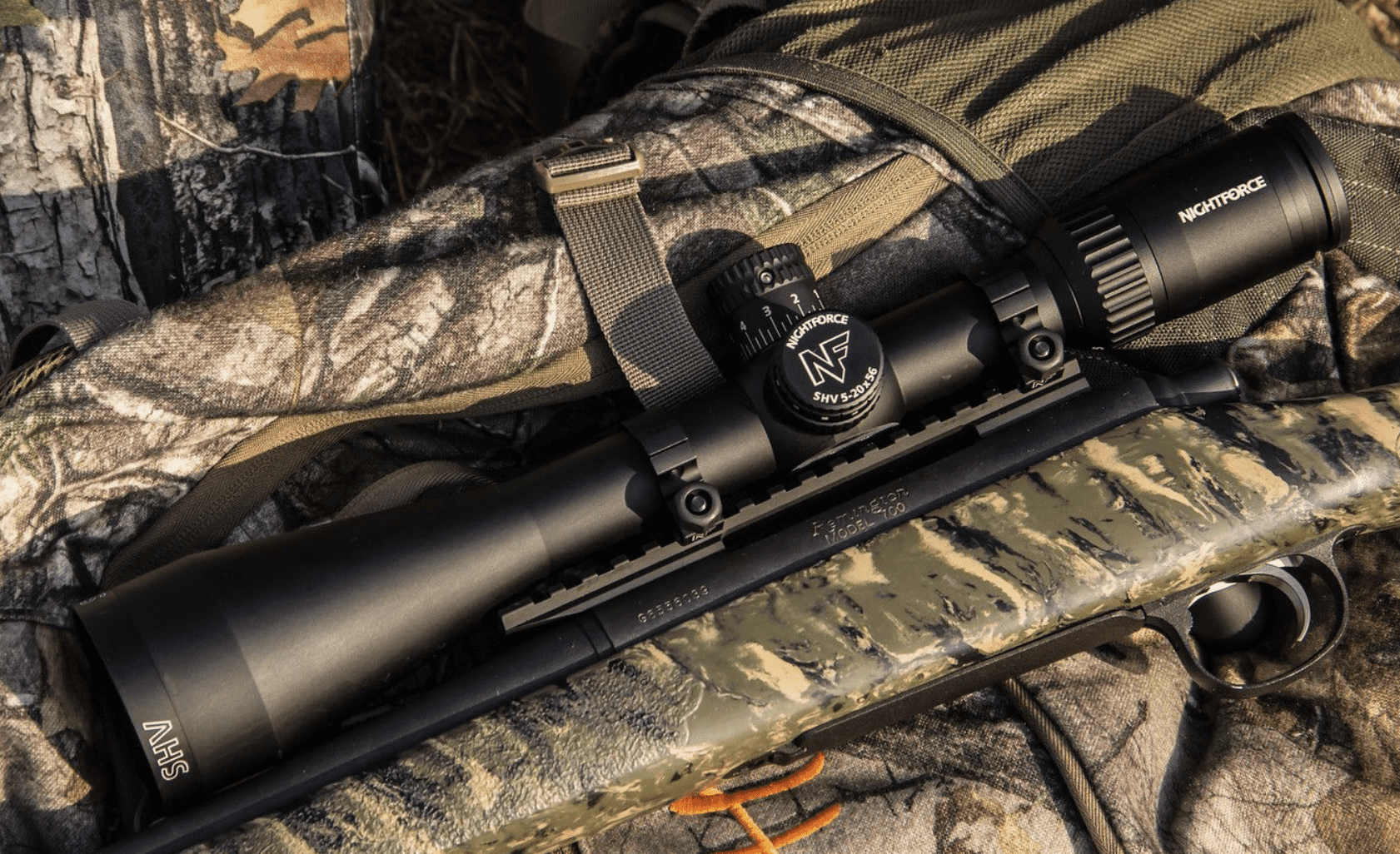 Glass Clarity & Reticle
The second I looked down this scope, I was in love. To begin with, the lenses are exceptionally clear. This would be good news even on a smaller scope. But the 56mm objective lens lets in a ridiculous amount of light. The low-light performance is fantastic, and you'll get brilliant color clarity at any magnification level.
The reticle is designed for expert shooters who need to adjust for windage and elevation on the fly. There's a thin set of crosshairs, with the vertical crosshair abbreviated about halfway between the center and the top.
The crosshairs are marked at the MOA positions, which are very easy to read. With the right load, you'll be able to shoot out to 500 yards without adjusting your crosshairs.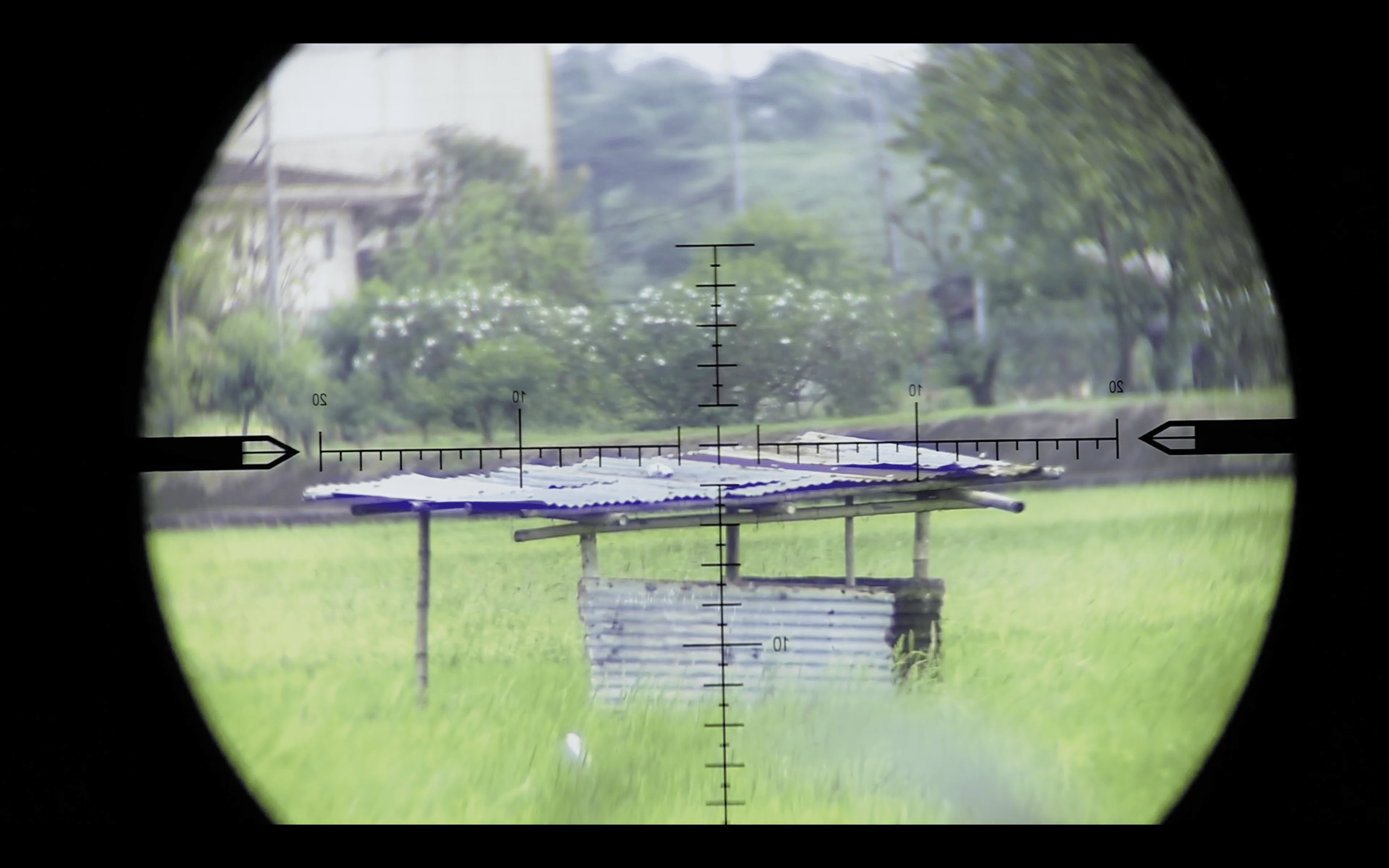 Parallax & Magnification
The NIGHTFORCE SHV can zoom from 5x to 20x magnification. The adjustment ring has deep ribbing, and it's easy to grip and manipulate with wet hands. There are white numerals on the ring, with a hash on the tube that lines up with your current magnification level.
The field of view is highly variable, depending on how far you're zoomed in. At 5x magnification, you'll have a wide, 17.9-foot viewing window at 100 yards. Zoom in to 20x, and the window will shrink to 5 feet.
You'll find a parallax adjustment dial on the left side of the housing. This can be used to adjust the parallax from 25 yards to infinity.
Elevation & Windage Knobs
The elevation dial is located on top of the housing, partway down the tube. It gives excellent tactile response, and makes an audible click when you rotate it. Each click amounts to a ¼-MOA adjustment. The elevation dial also has a reset-to-zero function that only requires a small Phillips screwdriver.
The windage dial is located on the right of the tube, and is of a similar quality. It also moves the reticle by ¼ MOA per click.
The elevation dial has an adjustment range of 80 MOA. Combine that with the 20x maximum magnification, and you're looking at an excellent long-range scope. The windage can be adjusted across a 50-MOA window.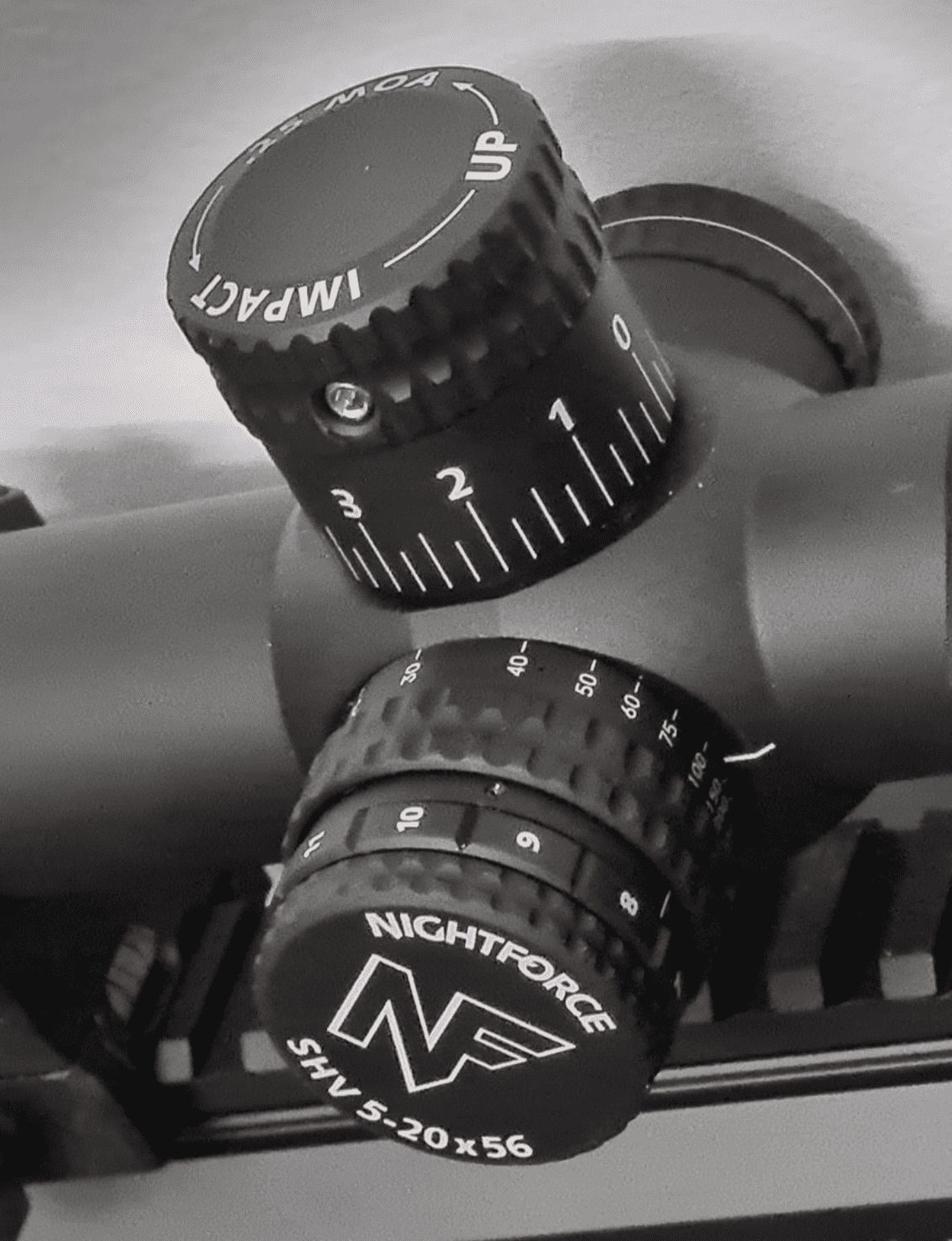 Eye Relief & Eye Box
The SHV comes with 3.5 inches of eye relief, which allows for comfortable shooting. I would have liked a bit larger of an eye box at high magnifications. At 20x, I was hugging my rifle a bit closer than I like to. But at lower magnifications and shorter ranges, there were no issues whatsoever.
Durability
The NIGHTFORCE SHV does a fantastic job of holding zero. When I did my drop test on this scope, the crosshairs didn't budge.
This makes it especially attractive as a hunting glass. You can get away with poor drop performance on a range scope. But this one is tough enough to weather a three-gun competition or getting banged against the side of a deer stand. I have absolutely zero concerns about its versatility.
Is the NIGHTFORCE SHV worth it?
Carlos Hathcock was a US Army sniper in the Vietnam war. The Vietnamese thought he was so dangerous that they put a $30,000 bounty on his head.
Nobody ever collected. At one point, Hathcock put a bullet directly down the scope of a Vietnamese sniper. He would survive the war and go on to become a living legend as America's greatest sniper.
Why am I telling you this?
Because if Carlos Hathcock came back from the dead and wanted to buy a new scope, he'd pick the NIGHTFORCE SHV.
It's rugged, it's reliable, and it's easy to adjust. It works well at any range, as well as in low-light conditions. What's not to like?
Pros
Performs well in any lighting conditions.
Easy adjustments
Extreme precision at any range
Exceptionally durable
Wrapping Up
At the end of the day, these are all great scopes. I tested over a dozen options, and they were the four that stood out.
Which one is right for you? That depends on your gun, as well as your personal preferences.
For other guides, see my best optics for Remington 700 piece.
So go ahead and try one for yourself! Worst case scenario, you have to return it and try something else.
Do you have a favorite .300 Win Mag scope? Let me know in the comments.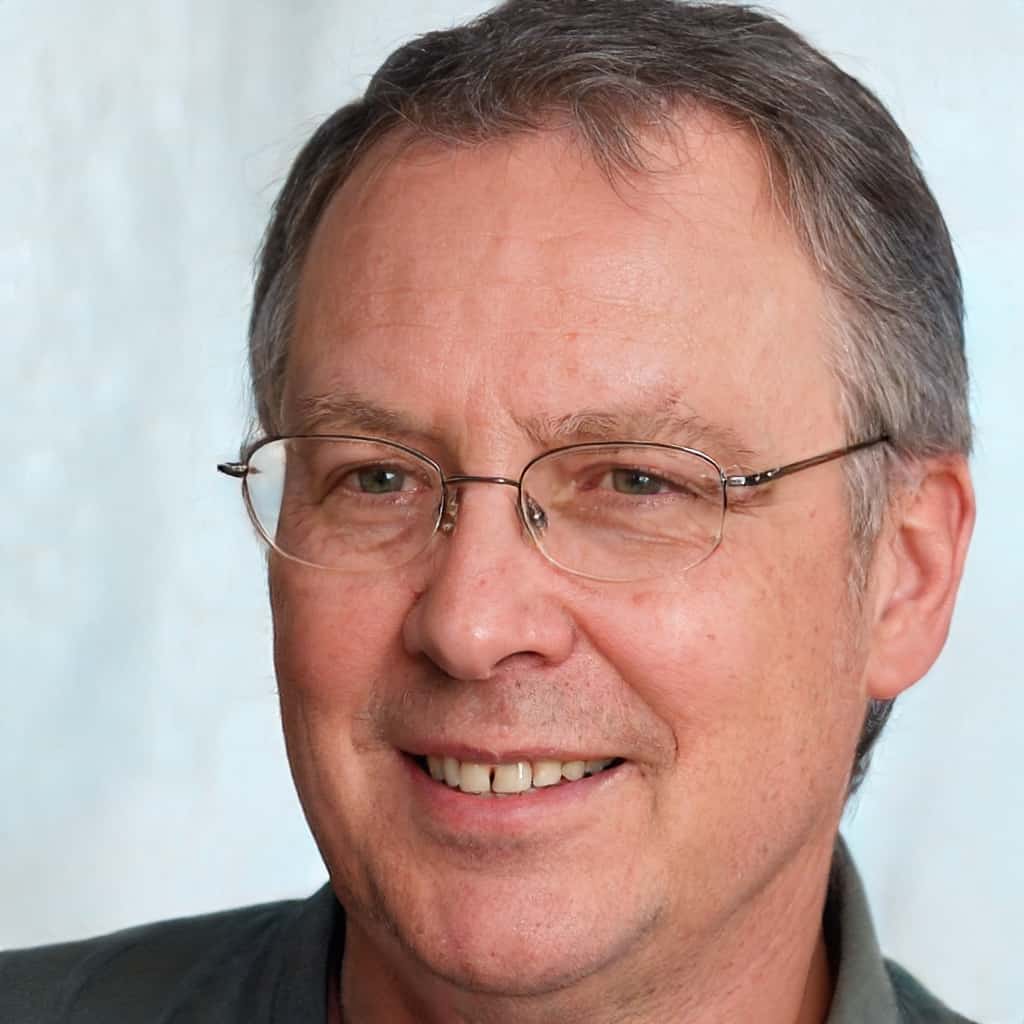 Jerry Miculek is one of the most versatile shooters in the world. Guns are not just a hobby for him, they are his passion and life. You can learn more about Jerry on our About us page.